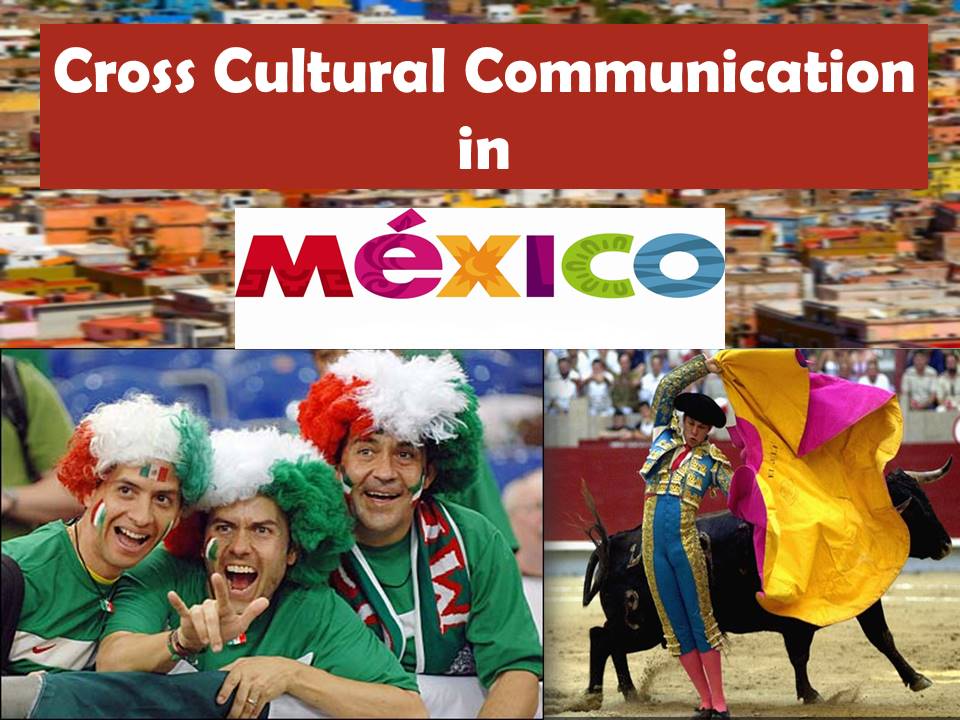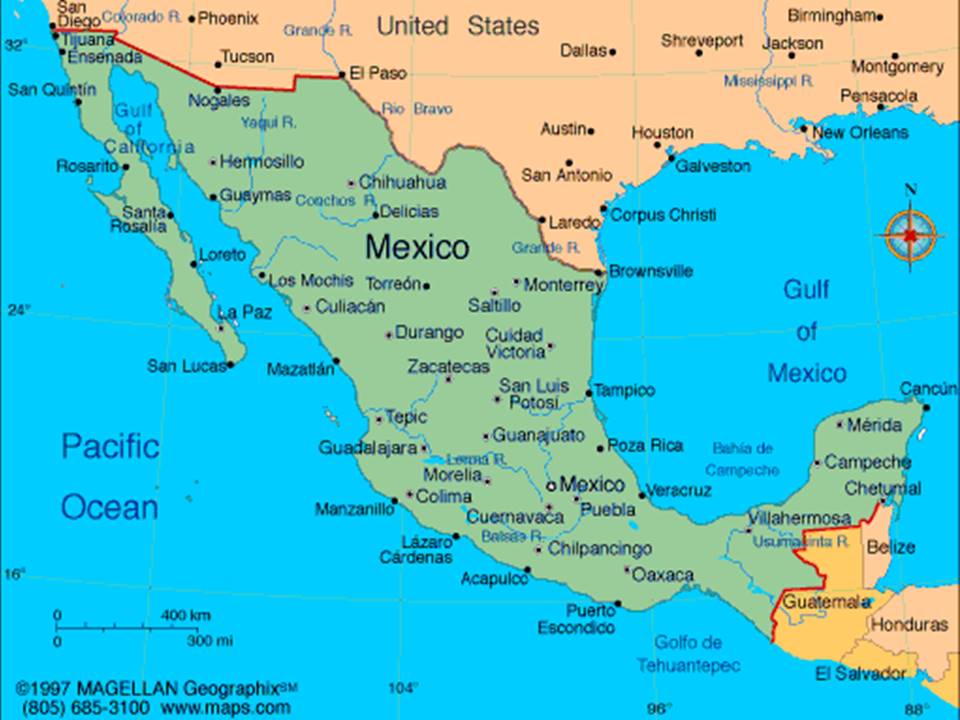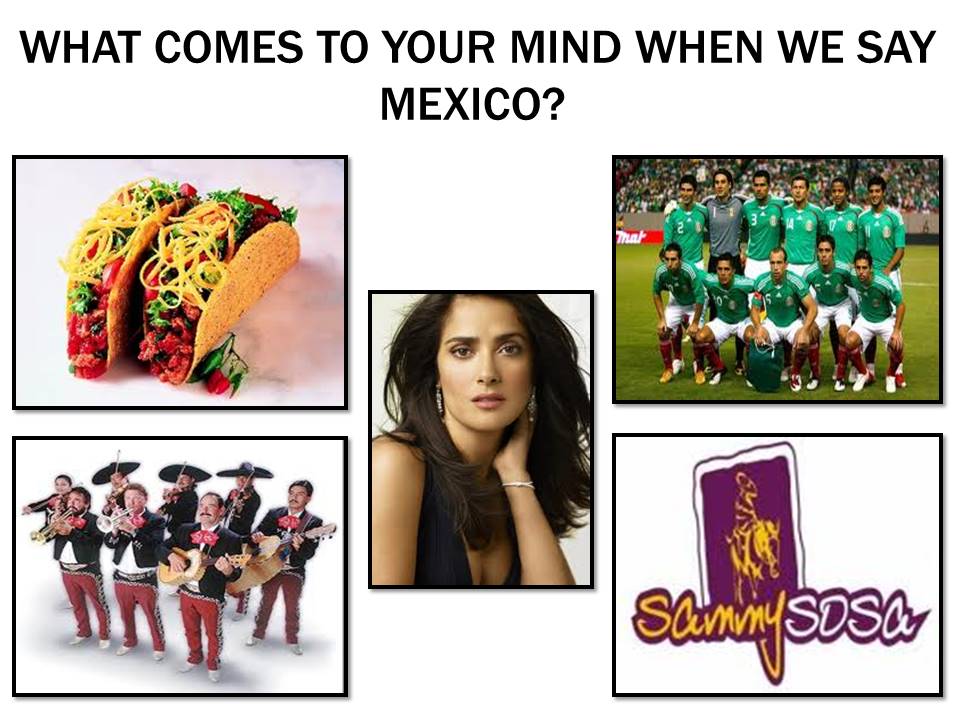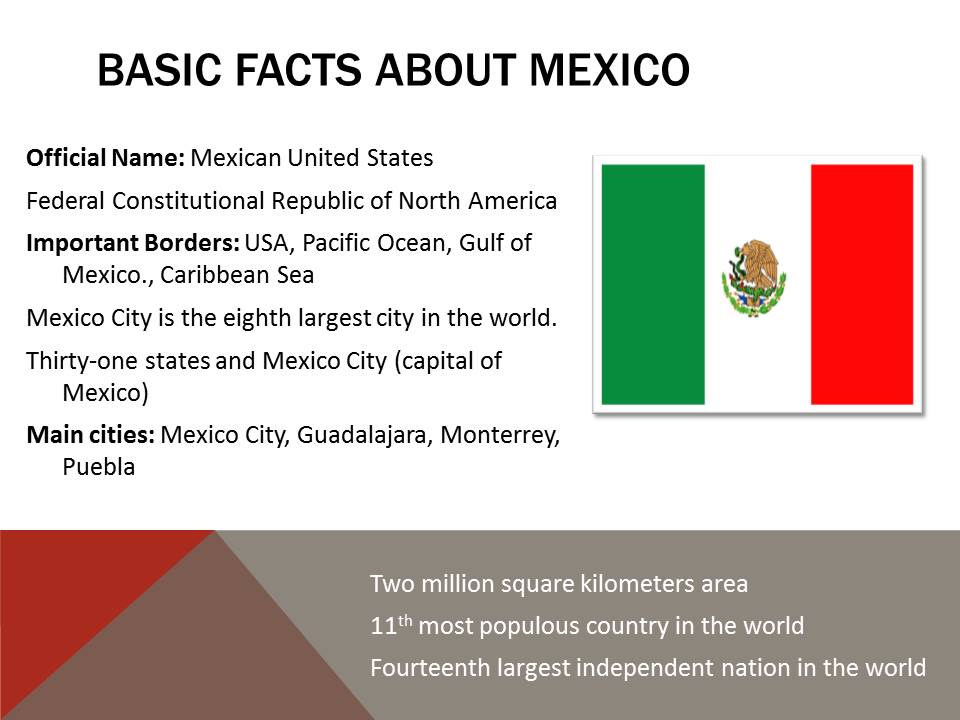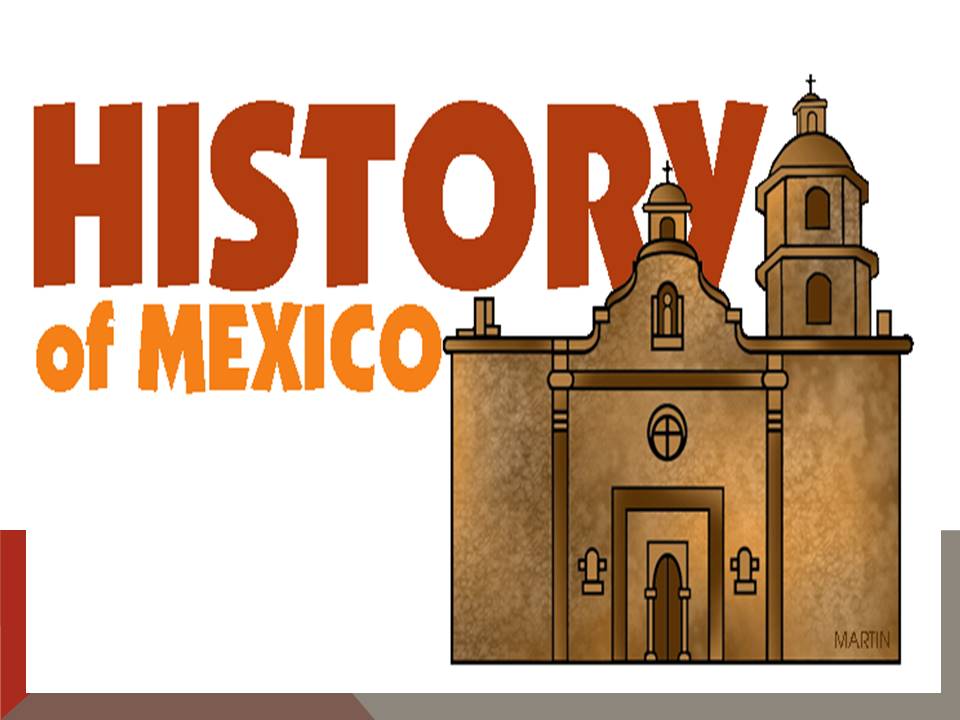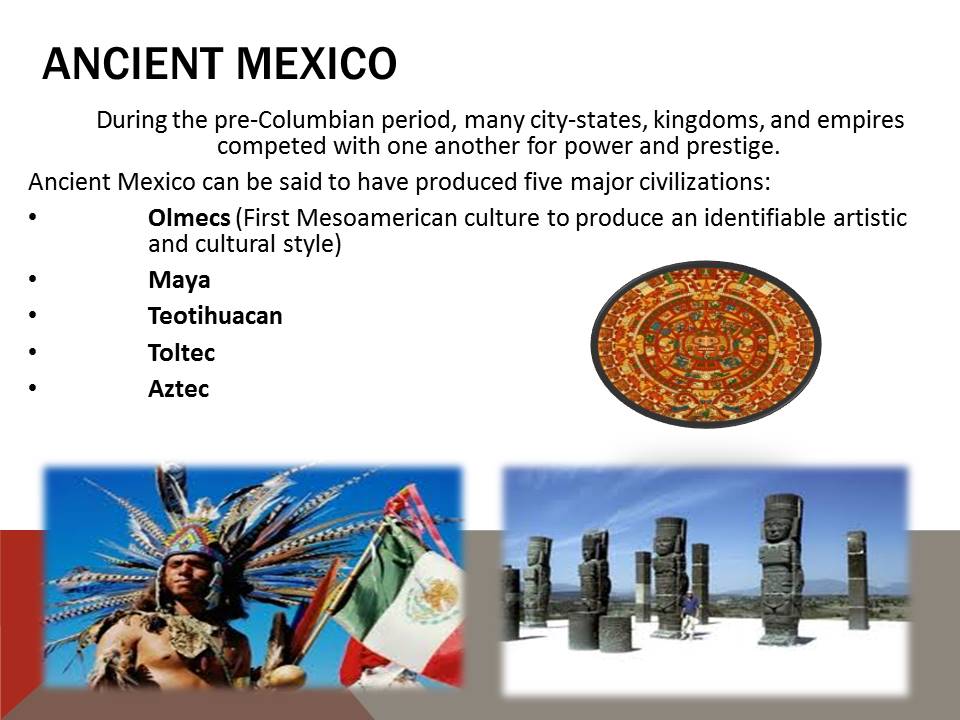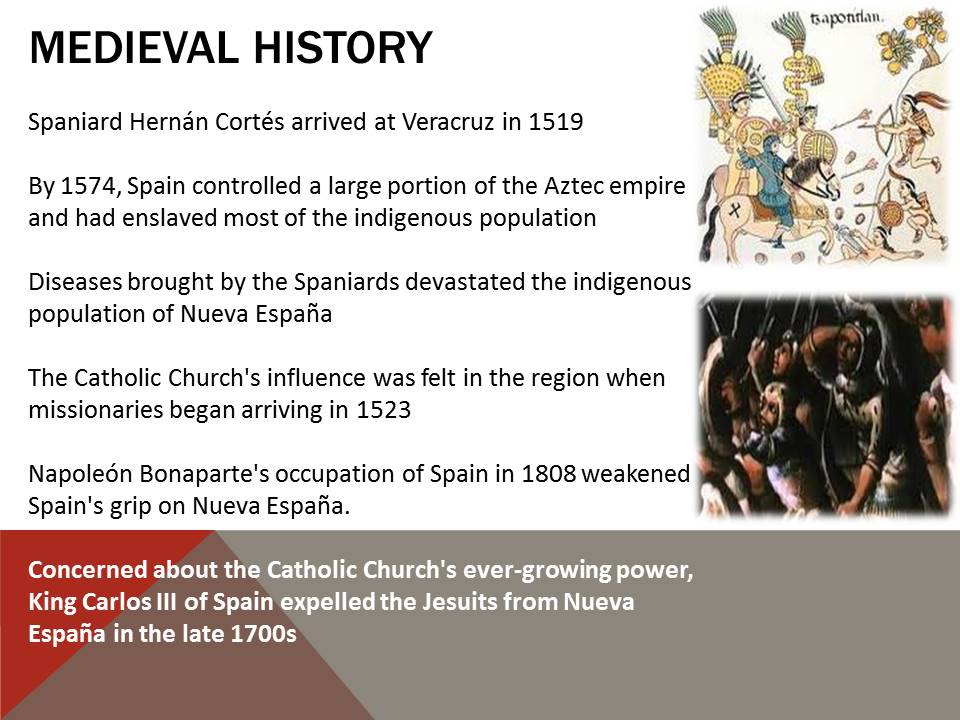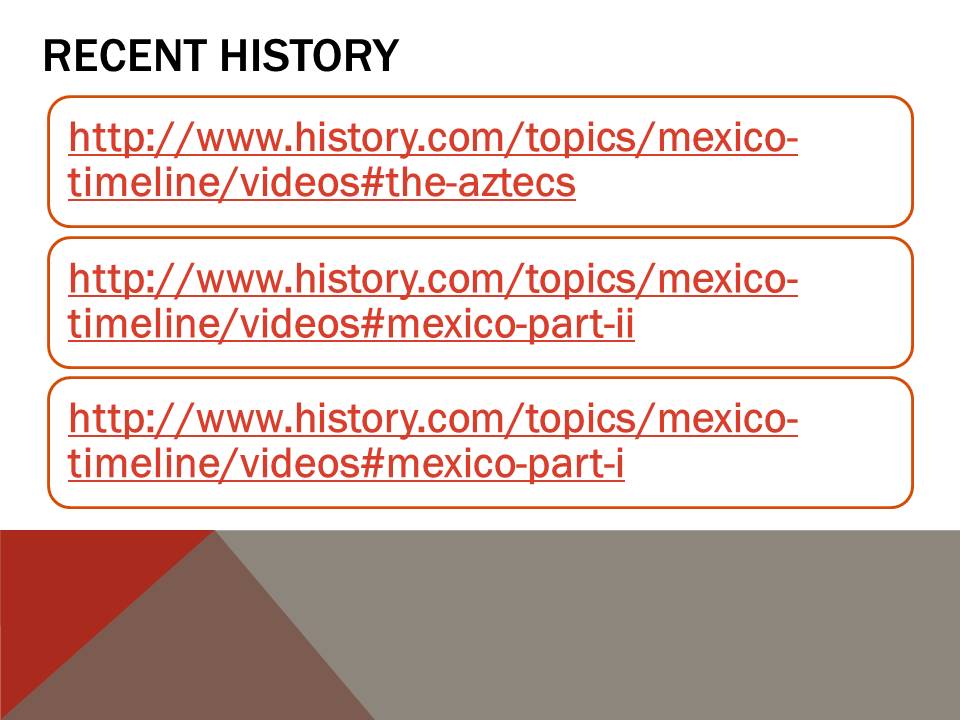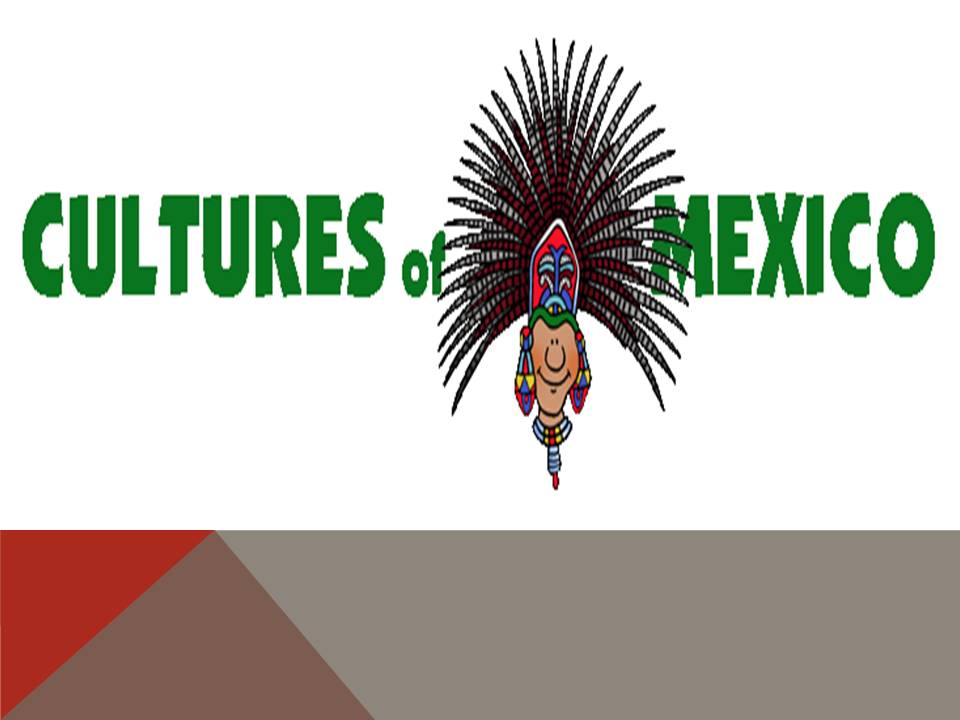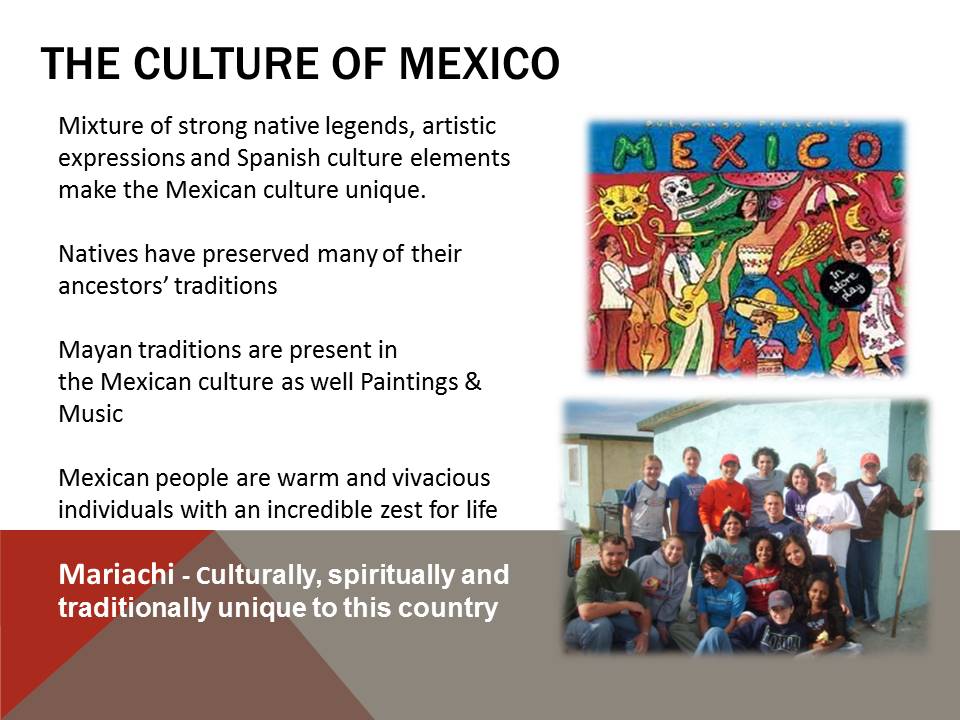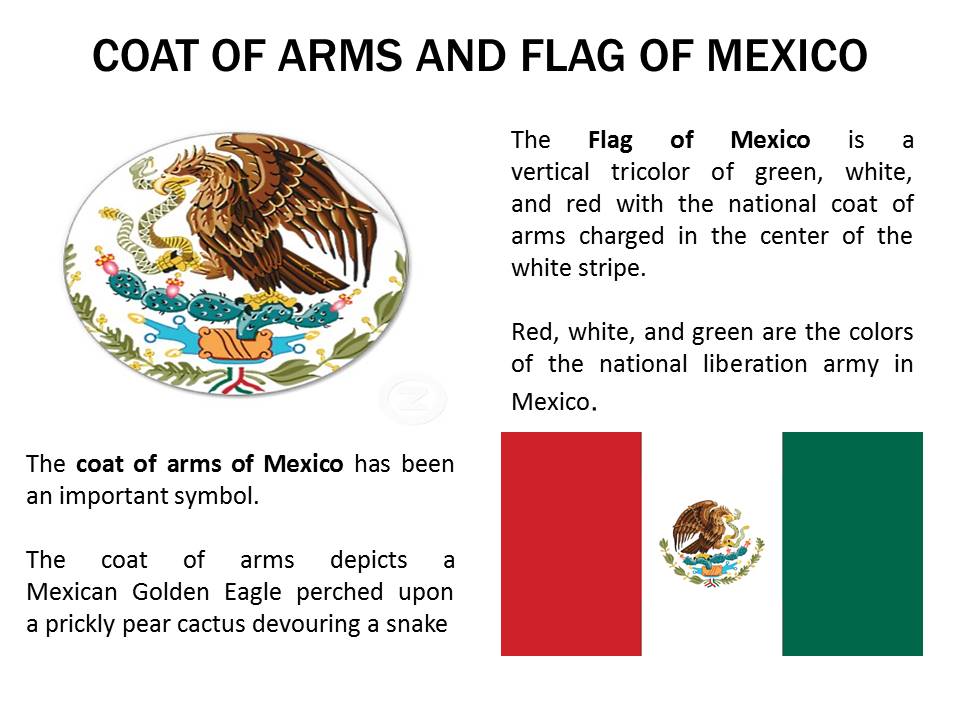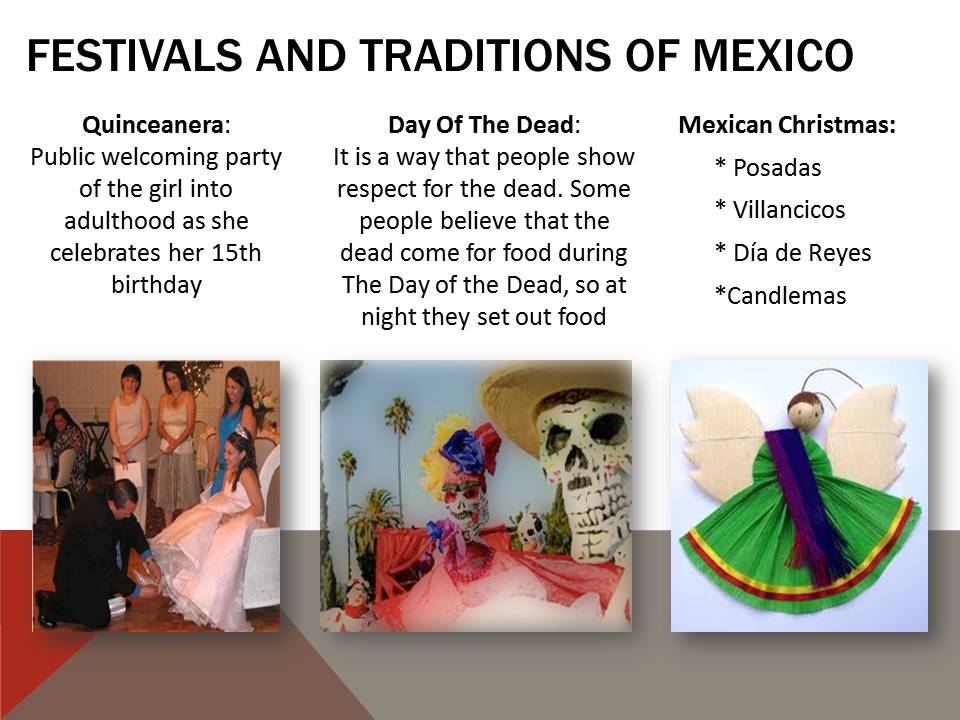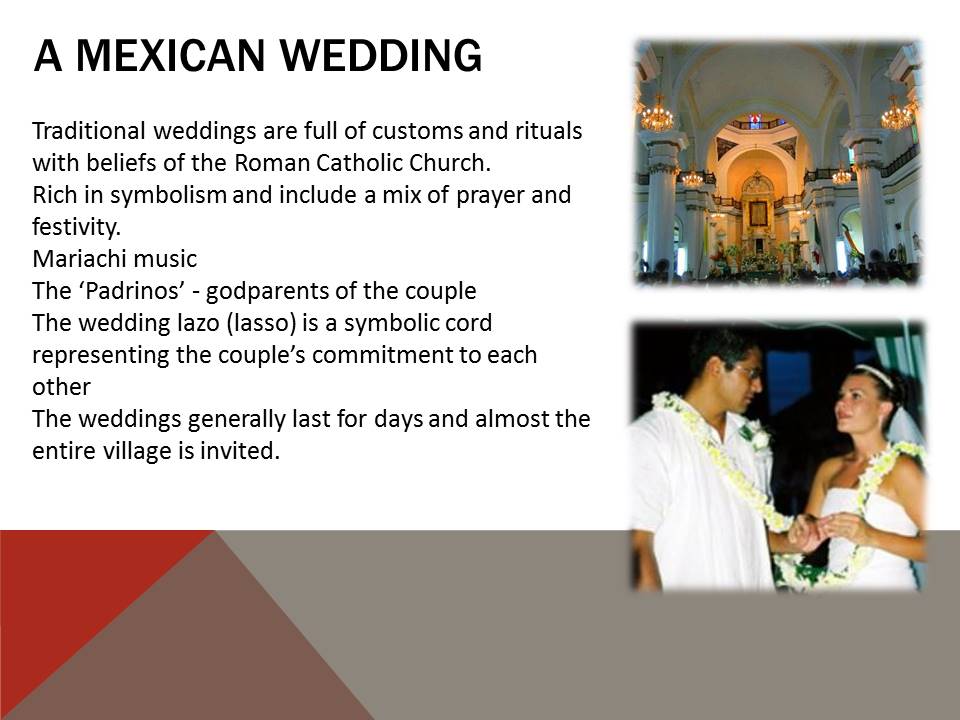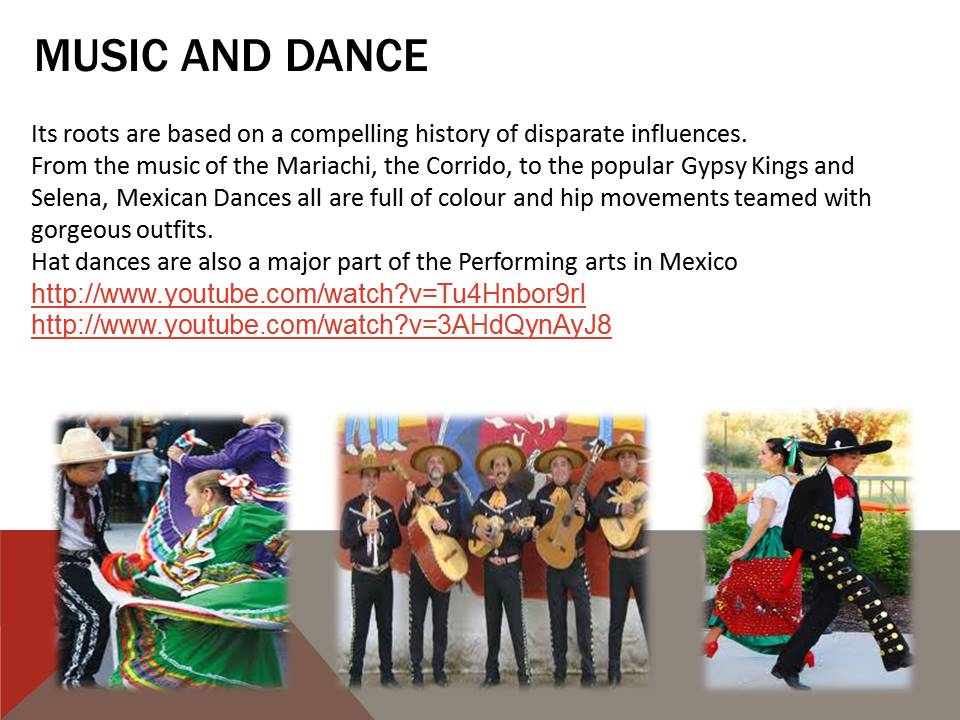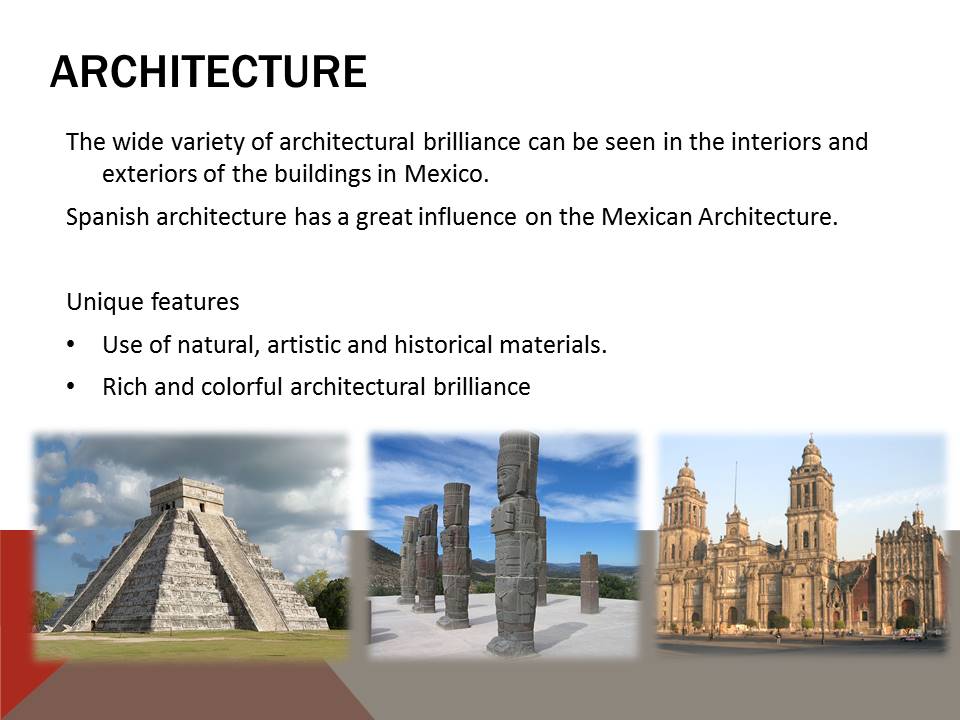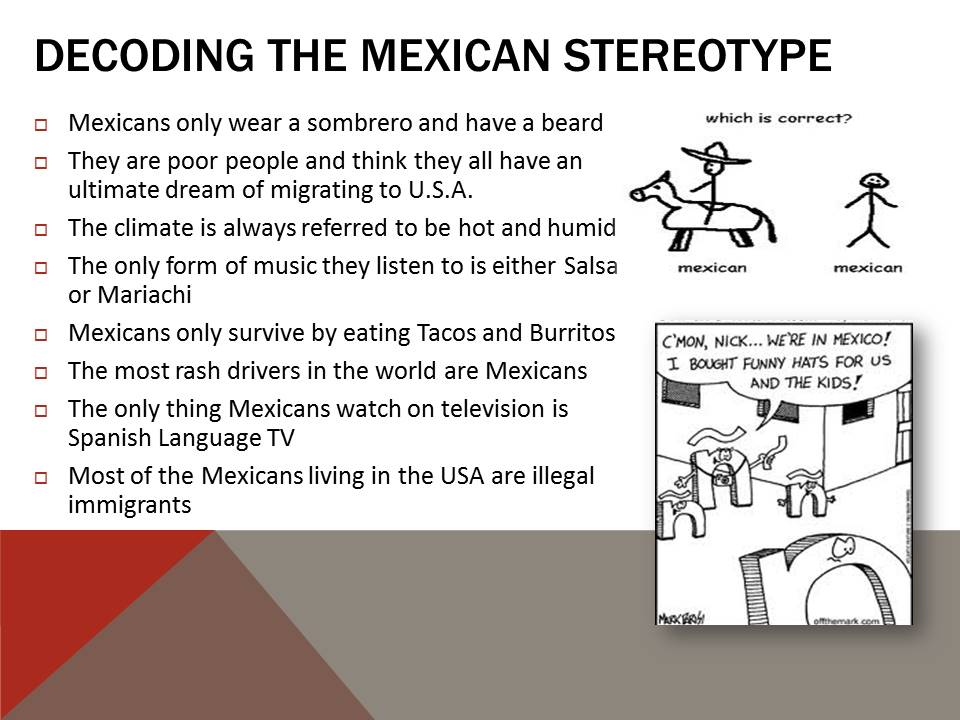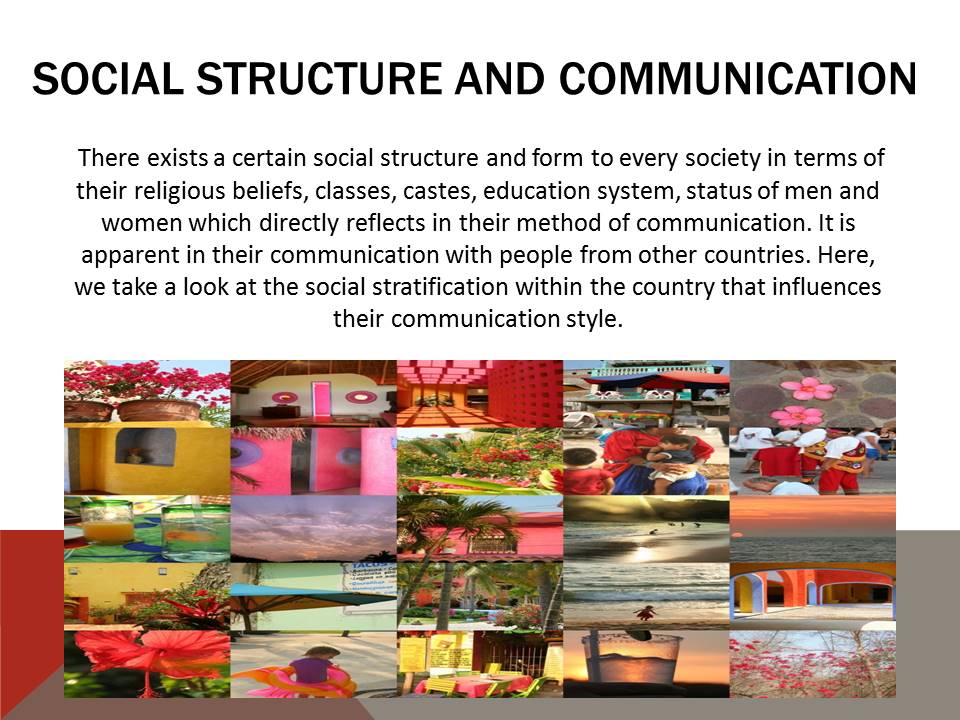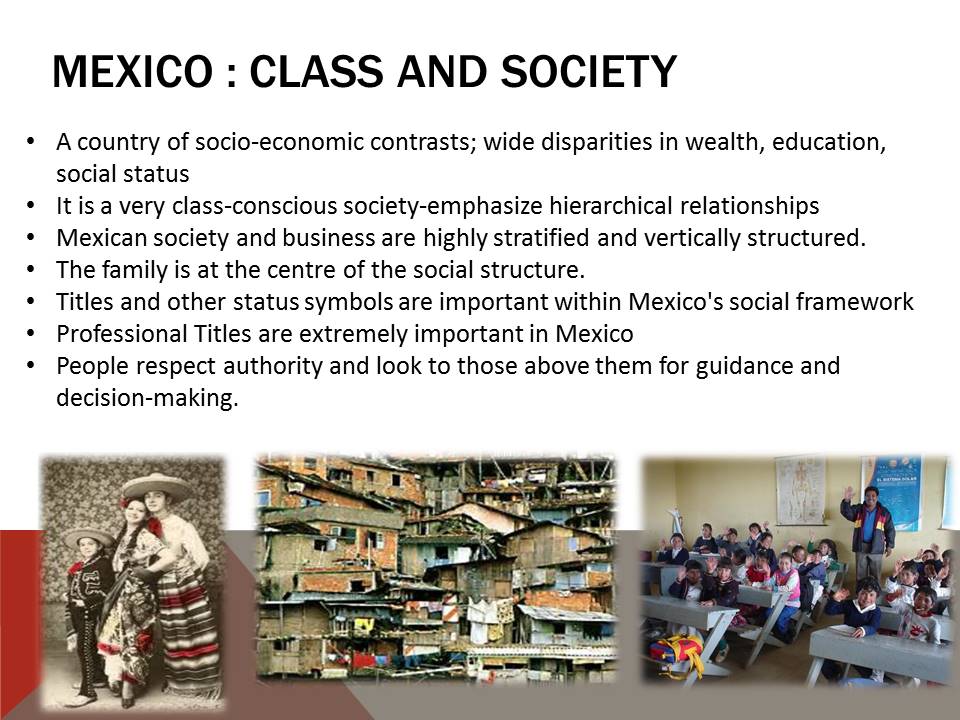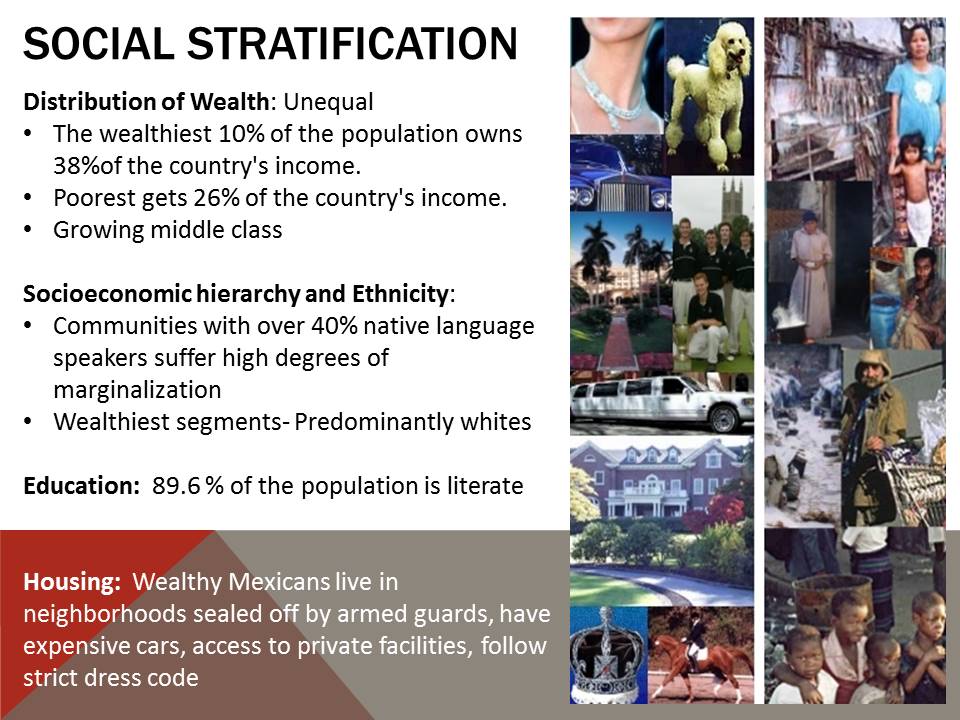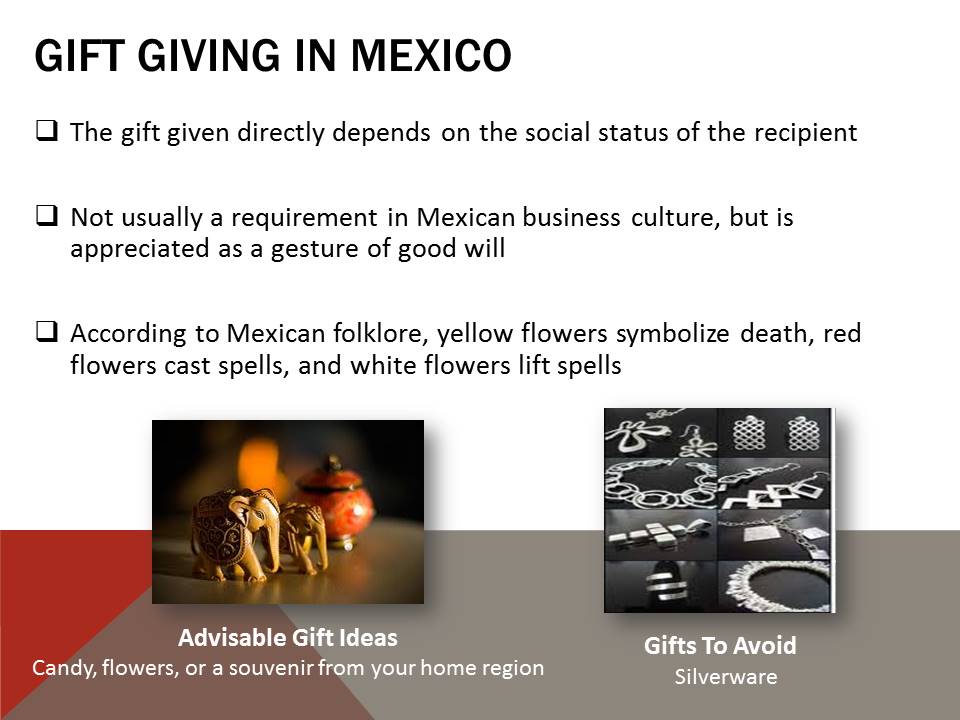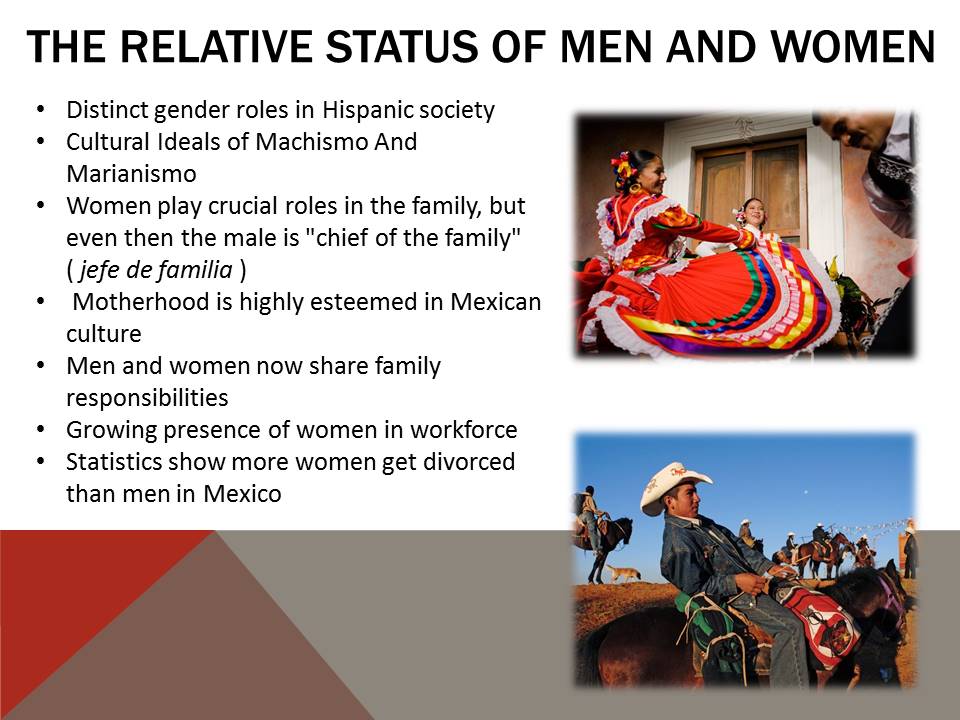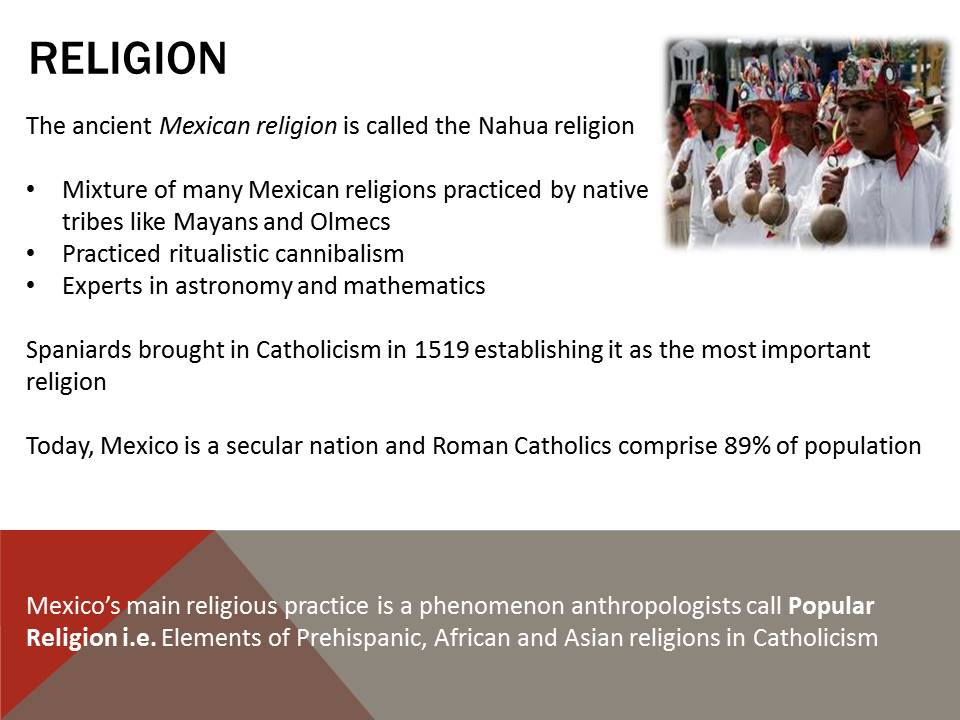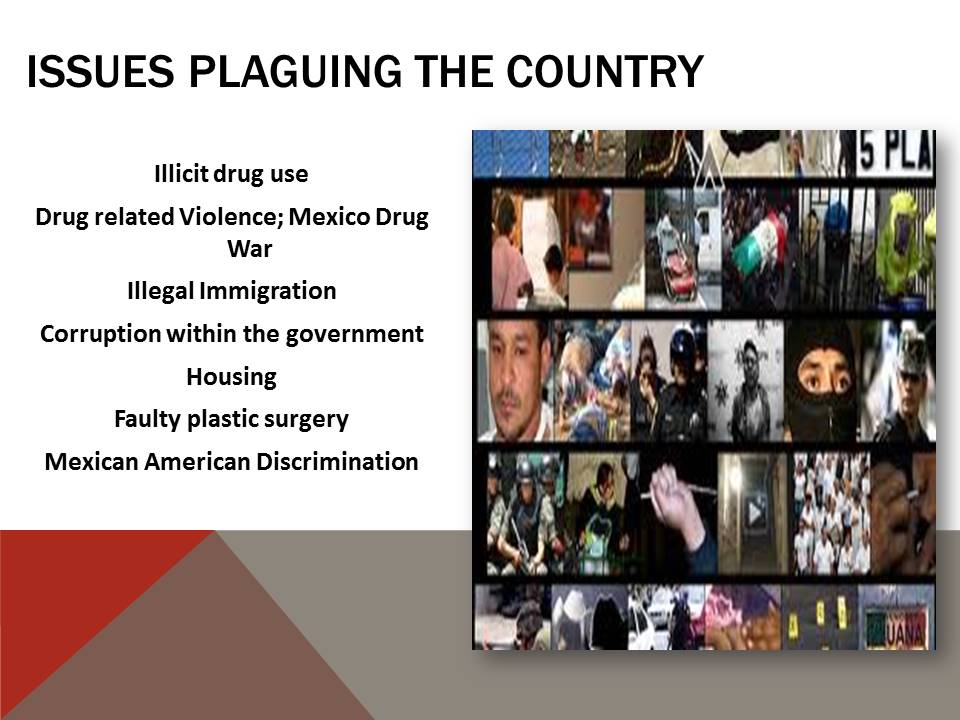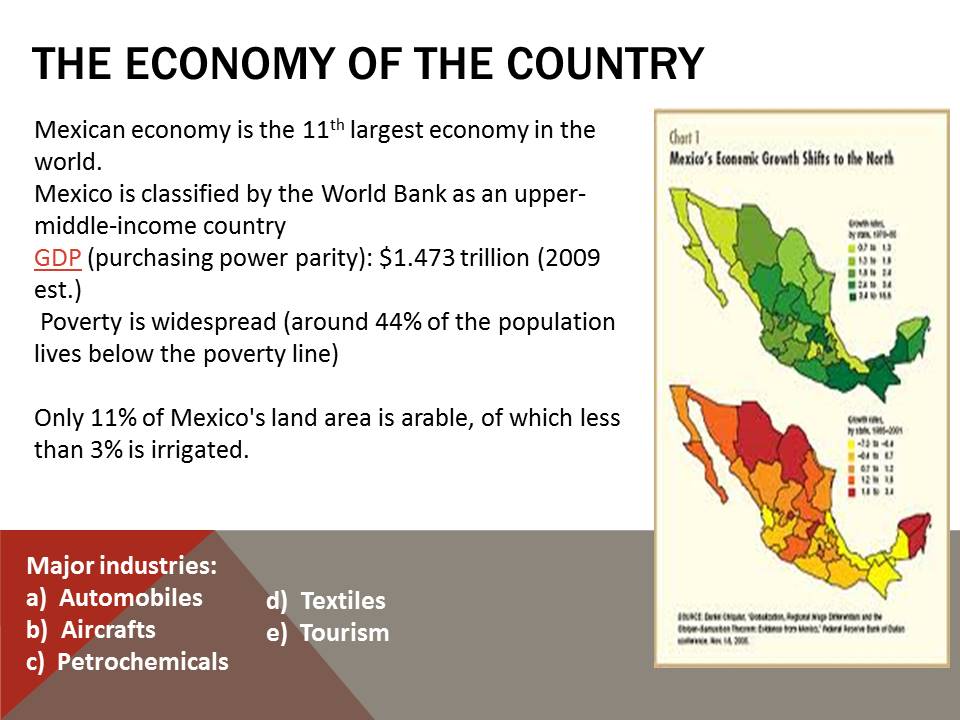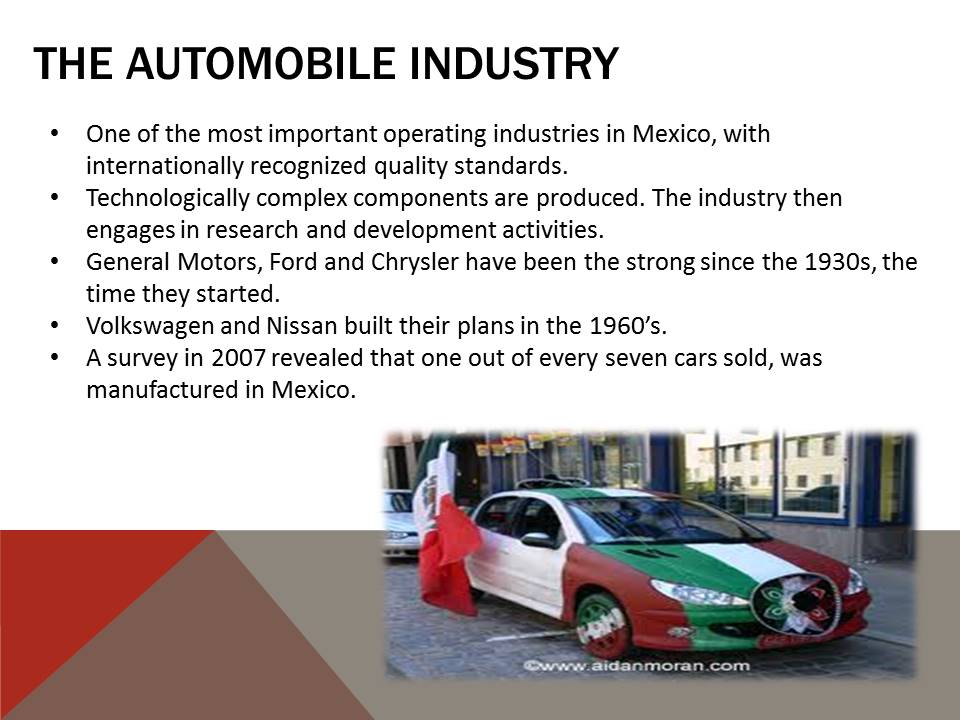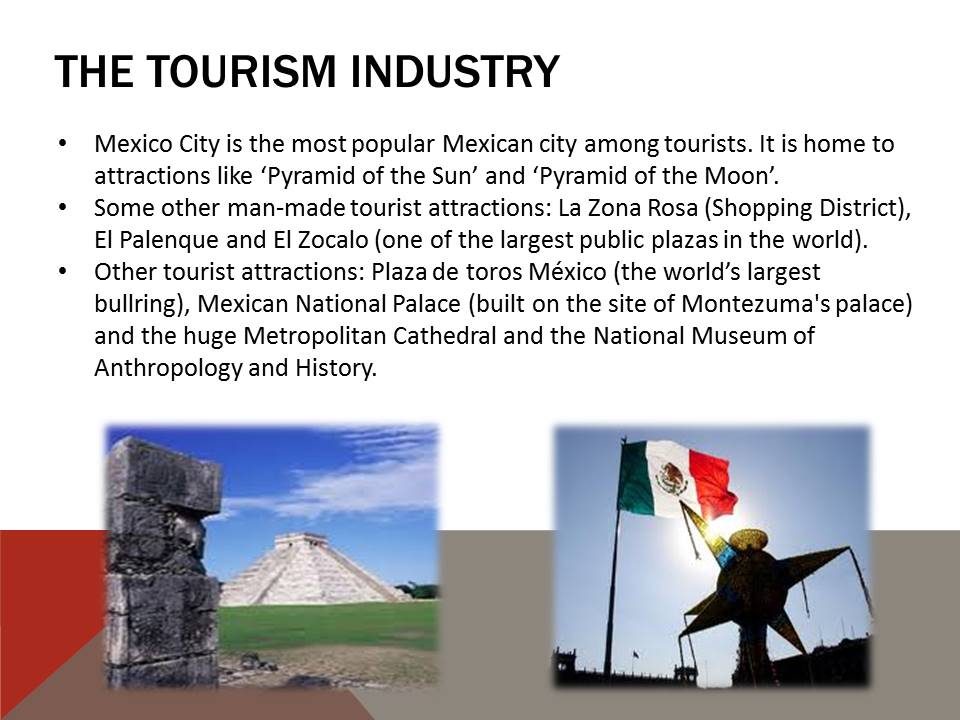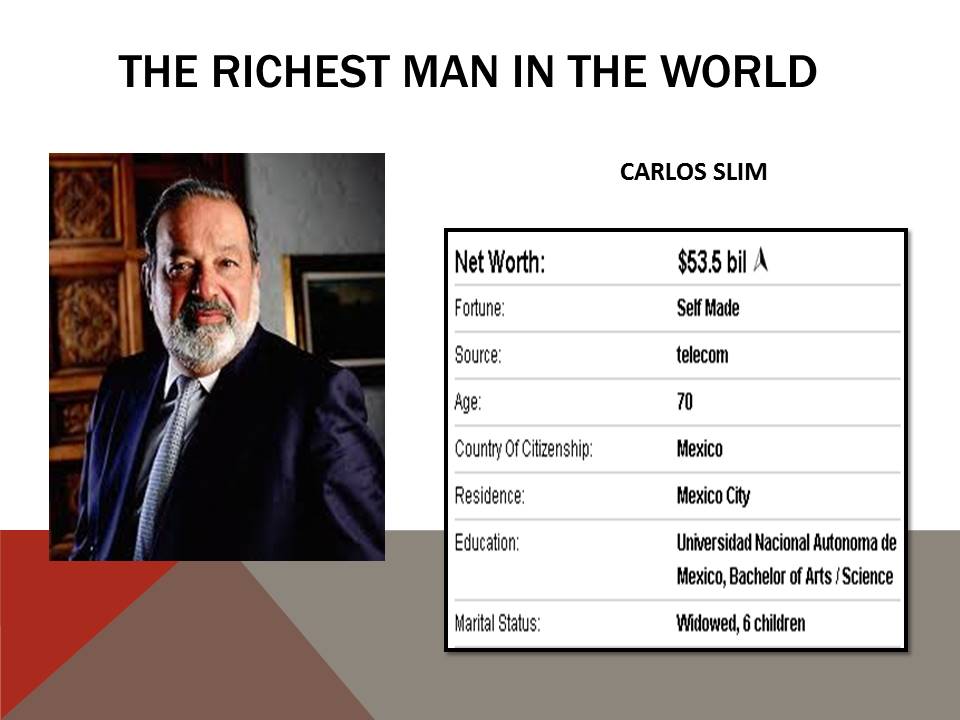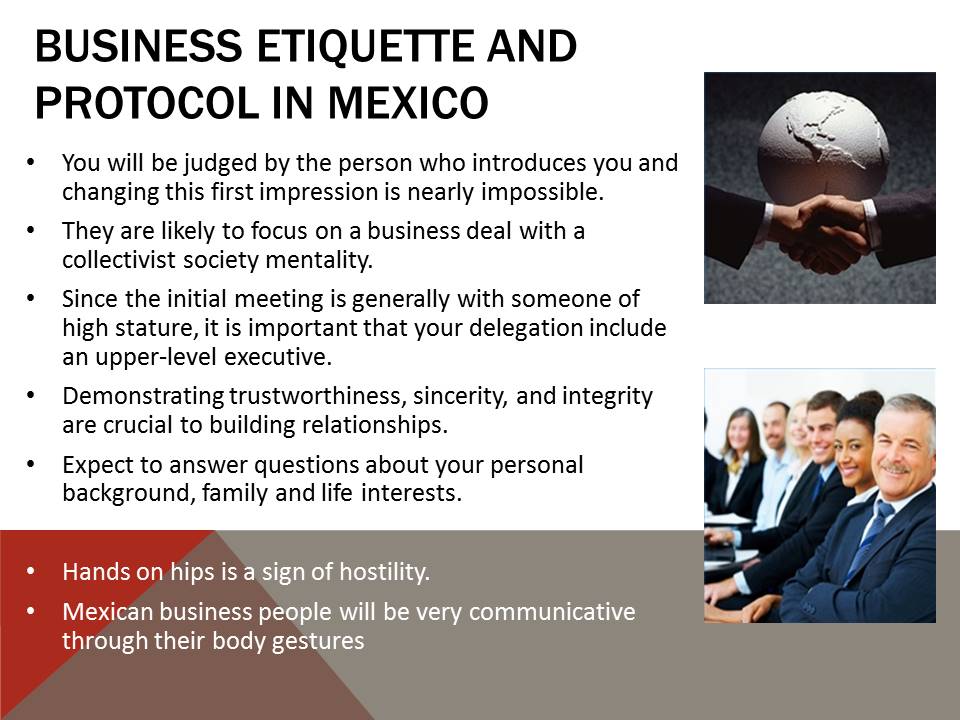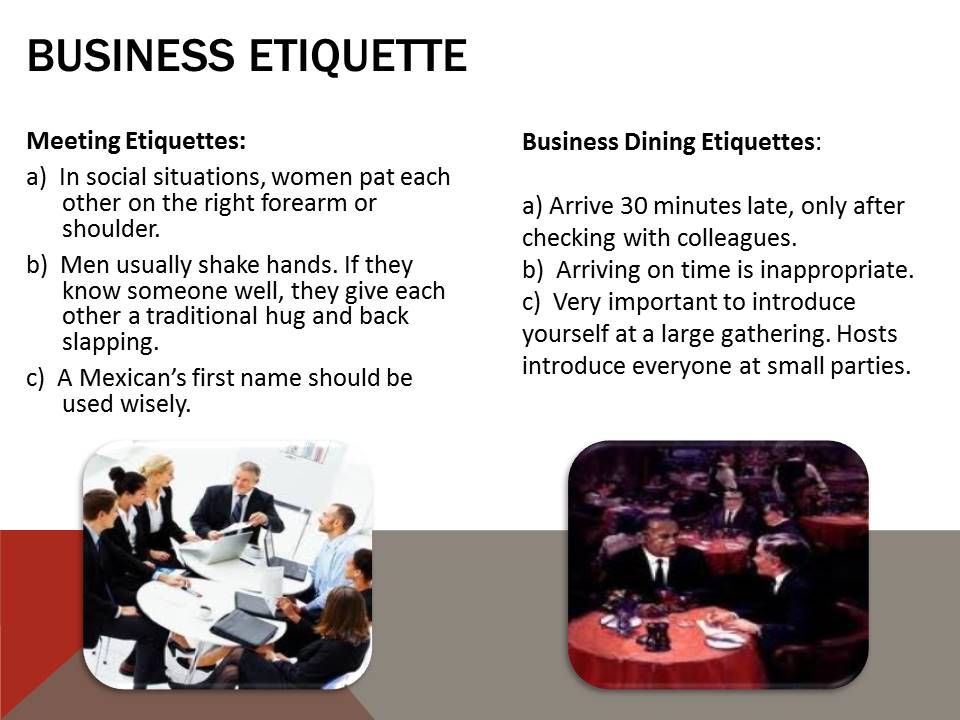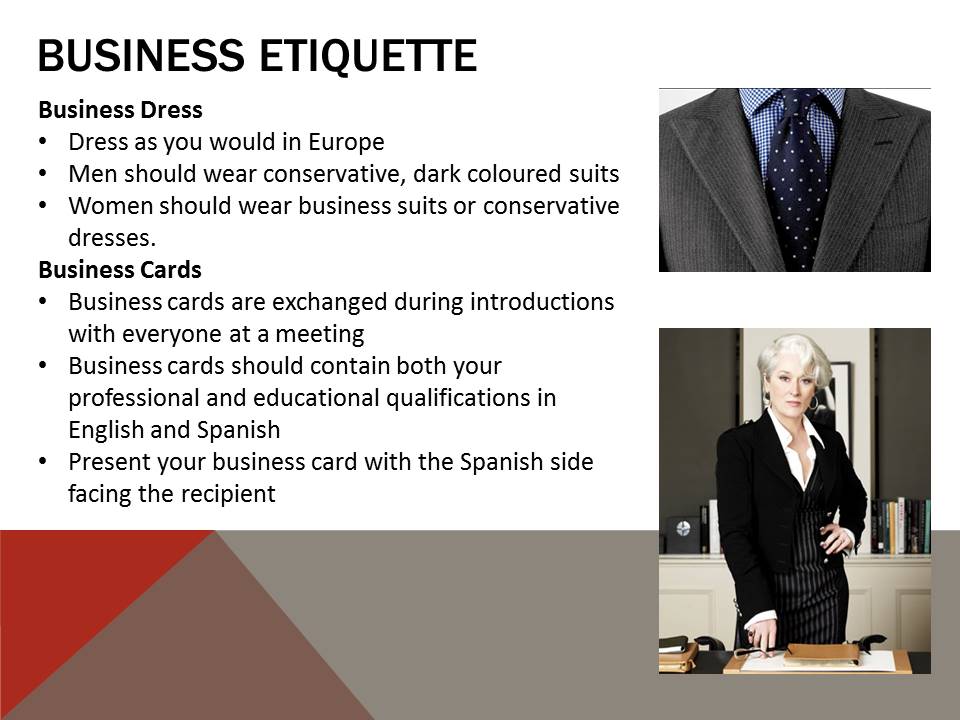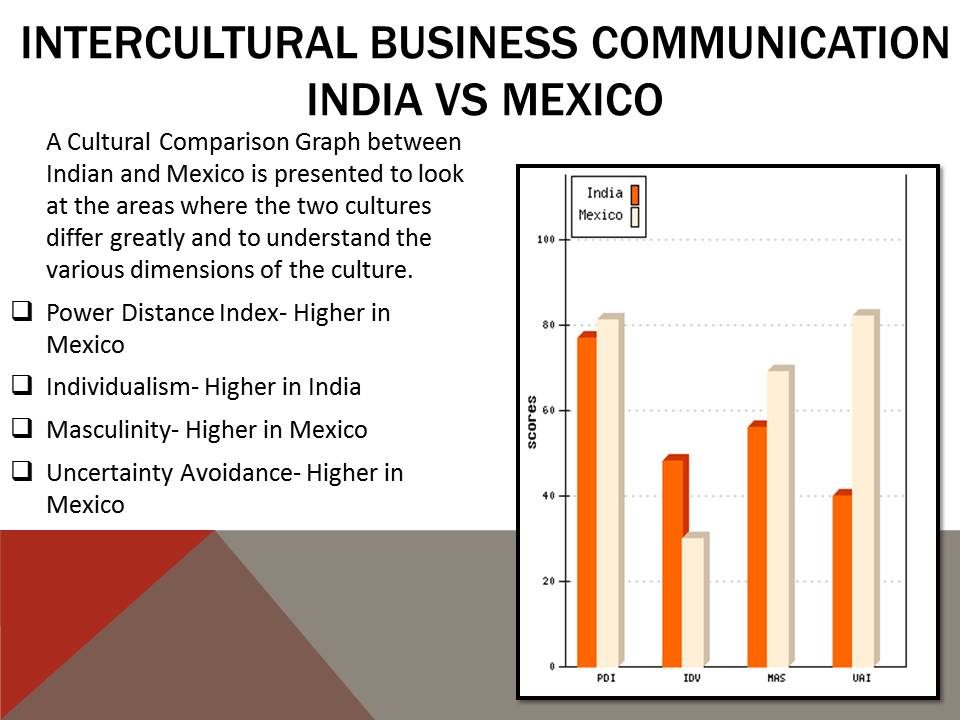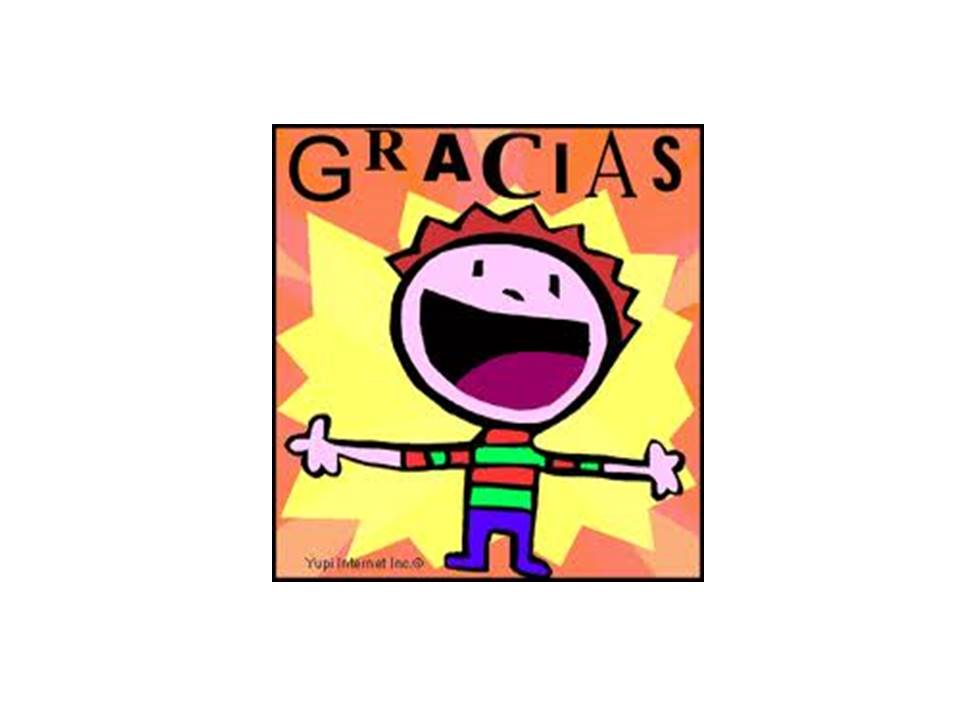 Project/Slides/Presentation Transcript
Subject: Business Communication
Topic: Cross Cultural Communication in Mexico
SLIDE 1
Cross Cultural Communication in Mexico
SLIDE 2 – Cross Cultural Communication in Mexico
Map of Mexico
SLIDE 3 – Cross Cultural Communication in Mexico
What Comes To Your Mind When We Say Mexico?
SLIDE 4 – BASIC FACTS ABOUT MEXICO
Official Name: Mexican United States
Federal Constitutional Republic of North America
Important Borders: USA, Pacific Ocean, Gulf of Mexico., Caribbean Sea
Two million square kilometers area
Fourteenth largest independent nation in the world
11th most populous country in the world Mexico City is the eighth largest city in the world.
Thirty-one states and Mexico City (capital of Mexico)
Main cities: Mexico City, Guadalajara, Monterrey, Puebla
SILDE 5 – A FEW FUN FACTS ABOUT MEXICO
Introduced Chocolate, Corn and Chilies to the world.
Located in the " Pacific Ring of Fire".
Built on a lake. As a result, it's sinking every year by 6-8 inches.
Tequila, a liquor for which Mexico is famous, is made from the native blue agave plant.
Mexico City built over ruins of Tenochtitlan (great Aztec city).
Mexico has the world's second-highest number of Catholics after Brazil.
SLIDE 6 – Cross Cultural Communication in Mexico
HISTORY OF MEXICO
SLIDE 7 – Cross Cultural Communication in Mexico
Ancient Mexico
During the pre-Columbian period, many city-states, kingdoms, and empires competed with one another for power and prestige.
Ancient Mexico can be said to have produced five major civilizations:
*Olmecs (first Mesoamerican culture to produce an identifiable artistic and cultural style)
* Maya
* Teotihuacan
* Toltec
* Aztec
SLIDE 8 – Cross Cultural Communication in Mexico
MEDIEVAL HISTORY
Spaniard Hernán Cortés arrived at Veracruz in 1519
By 1574, Spain controlled a large portion of the Aztec empire and had enslaved most of the indigenous population
Diseases brought by the Spaniards devastated the indigenous population of Nueva España
The Catholic Church's influence was felt in the region when missionaries began arriving in 1523
Concerned about the Catholic Church's ever-growing power, King Carlos III of Spain expelled the Jesuits from Nueva España in the late 1700s
Napoleón Bonaparte's occupation of Spain in 1808 weakened Spain's grip on Nueva España.
RECENT HISTORY
The SIGNIFICANCE Of MURALS
Some murals date back to 1000 B.C.
They told the stories of the gods and goddesses and showed important ceremonies and scenes from everyday life.
Centuries later, after the Mexican Revolution, during the 1920s and 1930s another "muralist movement" began.
New artists used murals to educate the illiterate population of their history and culture.
These murals are seen on walls of government buildings, and on structures in large cities.
SLIDE 11 – Cross Cultural Communication in Mexico
THE CULTURE OF MEXICO
Mixture of strong native legends, artistic expressions and Spanish culture elements make the Mexican culture unique.
Natives have preserved many of their ancestors' traditions
Mayan traditions are present in the Mexican culture as well
Paintings
Music
Mexican people are warm and vivacious individuals with an incredible zest for life  Mariachi- Culturally, spiritually and traditionally unique to this country
SLIDE 13 – Cross Cultural Communication in Mexico
Coat of Arms
The coat of arms of Mexico has been an important symbol.
The coat of arms depicts a Mexican Golden Eagle perched upon a prickly pear cactus devouring a snake
Flag of Mexico
The Flag of Mexico is a vertical tricolor of green, white, and red with the national coat of arms charged in the center of the white stripe.
Red, white, and green are the colors of the national liberation army in Mexico.
SLIDE 14 – Cross Cultural Communication in Mexico
Festivals and Traditions of Mexico
Mexican Christmas
Posadas
Villancicos
Día de Reyes
Candlemas
QUINCEANERA
Public welcoming party of the girl into adulthood as she celebrates her 15th birthday
DAY OF THE DEAD:
It is a way that people show respect for the dead. Some people believe that the dead come for food during The Day of the Dead, so at night they set out food
A MEXICAN WEDDING
Traditional weddings are full of customs and rituals with beliefs of the Roman Catholic Church.
Rich in symbolism and include a mix of prayer and festivity.
Mariachi music
The 'Padrinos' – godparents of the couple
The wedding lazo (lasso) is a symbolic cord representing the couple's commitment to each other
The weddings generally last for days and almost the entire village is invited.
MUSIC AND DANCE
Its roots are based on a compelling history of disparate influences. From the music of the Mariachi, the Corrido, to the popular Gypsy Kings and Selena
Mexican Dances are full of colour and hip movements teamed with gorgeous outfits.
Hat dances are also a major part of the Performing arts in Mexico
ARCHITECTURE
The wide variety of architectural brilliance can be seen in the interiors and exteriors of the buildings in Mexico.
Spanish architecture has a great influence on the Mexican Architecture.
Unique features – Use of natural, artistic and historical materials. Rich and colorful architectural brilliance
DECODING THE MEXICAN STEREOTYPE
Mexicans only wear a sombrero and have a beard
They are poor people and think they all have an ultimate dream of migrating to U.S.A.
The climate is always referred to be hot and humid
The only form of music they listen to is either Salsa or Mariachi
Mexicans only survive by eating Tacos and Burritos
The most rash drivers in the world are Mexicans
The only thing Mexicans watch on television is Spanish Language TV
Most of the Mexicans living in the USA are illegal immigrants
SLIDE 19  – Cross Cultural Communication in Mexico
Social Structure And Communication
There exists a certain social structure and form to every society in terms of their religious beliefs, classes, castes, education system, status of men and women which directly reflects in their method of communication. It is apparent in their communication with people from other countries. Here, we take a look at the social stratification within the country that influences their communication style.
MEXICO:CLASS AND SOCIETY
A country of socio-economic contrasts; wide disparities in wealth, education, social status
It is a very class-conscious society-emphasize hierarchical relationships
Mexican society and business are highly stratified and vertically structured.
The family is at the centre of the social structure.
Titles and other status symbols are important within Mexico's social framework
Professional Titles are extremely important in Mexico
People respect authority and look to those above them for guidance and decision-making.
SOCIAL STRATIFICAION
Distribution of Wealth: Unequal
The wealthiest 10% of the population owns 38%of the country's income.
Poorest gets 26% of the country's income.
Growing middle class
Socioeconomic hierarchy and Ethnicity:
Communities with over 40% native language speakers suffer high degrees of marginalization
Wealthiest segments- Predominantly whites
Education: 6 percent of the population is literate
Housing: Wealthy Mexicans live in neighborhoods sealed off by armed guards, have expensive cars, access to private facilities, follow strict dress code
GIFT GIVING IN MEXICO
The gift given directly depends on the social status of the recipient
Not usually a requirement in Mexican business culture, but is appreciated as a gesture of good will
According to Mexican folklore, yellow flowers symbolize death, red flowers cast spells, and white flowers lift spells
Advisable Gift Ideas Candy, flowers, or a souvenir from your home region
Gifts To Avoid Silverware
THE RELATIVE STATUS OF MEN AND WOMEN
Distinct gender roles in Hispanic society
Cultural Ideals of Machismo And Marianismo
Women play crucial roles in the family, but even then the male is "chief of the family" ( jefe de familia )
Motherhood is highly esteemed in Mexican culture
Men and women now share family responsibilities
Growing presence of women in workforce
Statistics show more women get divorced than men in Mexico
RELIGION 
The ancient Mexican religion is called the Nahua religion
♦ Mixture of many Mexican religions practiced by native tribes like Mayans and Olmecs
♦ Practiced ritualistic cannibalism
♦ Experts in astronomy and mathematics
Spaniards brought in Catholicism in 1519 establishing it as the most important religion
Today, Mexico is a secular nation and Roman Catholics comprise 89% of population
Mexico's main religious practice is a phenomenon anthropologists call Popular Religion * Elements of Prehispanic, African and Asian religions in Catholicism
ISSUES PLAGUING THE COUNTRY
Illicit drug use
Drug related Violence; Mexico Drug War
Illegal Immigration
Corruption within the government
Housing
Faulty plastic surgery
Mexican American Discrimination
THE ECONOMY OF THE COUNTRY  
Mexican economy is the 11th largest economy in the world.
Mexico is classified by the World Bank as an upper-middleincome country
GDP (purchasing power parity): $1.473 trillion (2009 est.)
Poverty is widespread (around 44% of the population lives below the poverty line)
Only 11% of Mexico's land area is arable, of which less than 3% is irrigated.
Major industries: a)Automobiles b) Aircrafts c) Petrochemicals d) Textiles e) Tourism
THE AUTOMIBILE INDUSTRY
One of the most important operating industries in Mexico, with internationally recognized quality standards.
Technologically complex components are produced. The industry then engages in research and development activities.
General Motors, Ford and Chrysler have been the strong since the 1930s, the time they started.
Volkswagen and Nissan built their plans in the 1960's.
A survey in 2007 revealed that one out of every seven cars sold, was manufactured in Mexico
THE TOURISM INDUSTRY
Mexico City is the most popular Mexican city among tourists. It is home to attractions like 'Pyramid of the Sun' and 'Pyramid of the Moon'.
Some other human-made tourist attractions: La Zona Rosa (Shopping District), El Palenque and El Zocalo (one of the largest public plazas in the world).
Some other tourist attractions: Plaza de toros México (the world's largest bullring), Mexican National Palace (built on the site of Montezuma's palace) and the huge Metropolitan Cathedral.
Also has the National Museum of Anthropology and History.
SLIDE 29 – Cross Cultural Communication in Mexico
The Richest Man In The World
CARLOS SLIM
BUSINSS ETIQUITTE AND PROTOCOL IN MEXIXO
You will be judged by the person who introduces you and changing this first impression is nearly impossible.
They are likely to focus on a business deal with a collectivist society mentality.
Since the initial meeting is generally with someone of high stature, it is important that your delegation include an upper-level executive.
Demonstrating trustworthiness, sincerity, and integrity are crucial to building relationships
Expect to answer questions about your personal background, family and life interests.
Hands on hips is a sign of hostility.
Mexican business people will be very communicative through their body gestures
BUSINESS ETIQUITTE   
Meeting Etiquettes:
a) In social situations, women pat each other on the right forearm or shoulder.
b) Men usually shake hands. If they know someone well, they give each other a traditional hug and back slapping.
c) A Mexican's first name should be used wisely.
Business Dining Etiquettes:
a) Arrive 30 minutes late, only after checking with colleagues.
b) Arriving on time is inappropriate.
c) Very important to introduce yourself at a large gathering. Hosts introduce everyone at small parties.
Business Etiquette
Business Dress
Dress as you would in Europe.
Men should wear conservative, dark coloured suits.
Women should wear business suits or conservative dresses.
Business Cards
Business cards are exchanged during introductions with everyone at a meeting.
Business cards should contain both your professional and educational qualifications in English and Spanish.
Present your business card with the Spanish side facing the recipient
Cross Cultural Communication INDIA VS MEXICO
A Cultural Comparison Graph between Indian and Mexico is presented to look at the areas where the two cultures differ greatly and to understand the various dimensions of the culture.
Power Distance Index- Higher in Mexico
Individualism- Higher in India
Masculinity- Higher in Mexico
Uncertainty Avoidance- Higher in Mexico