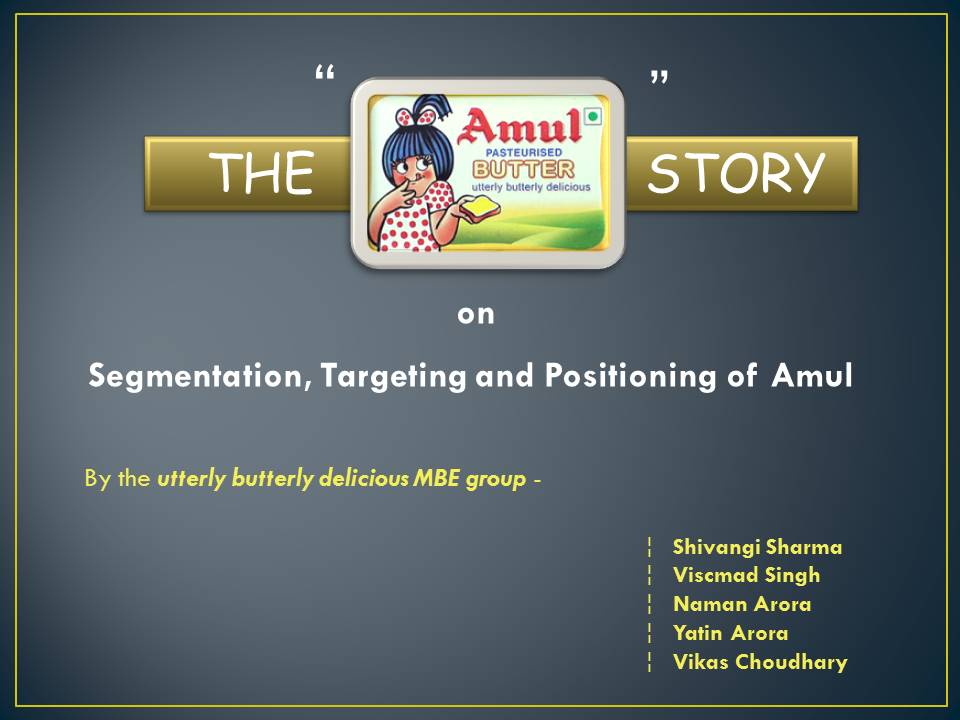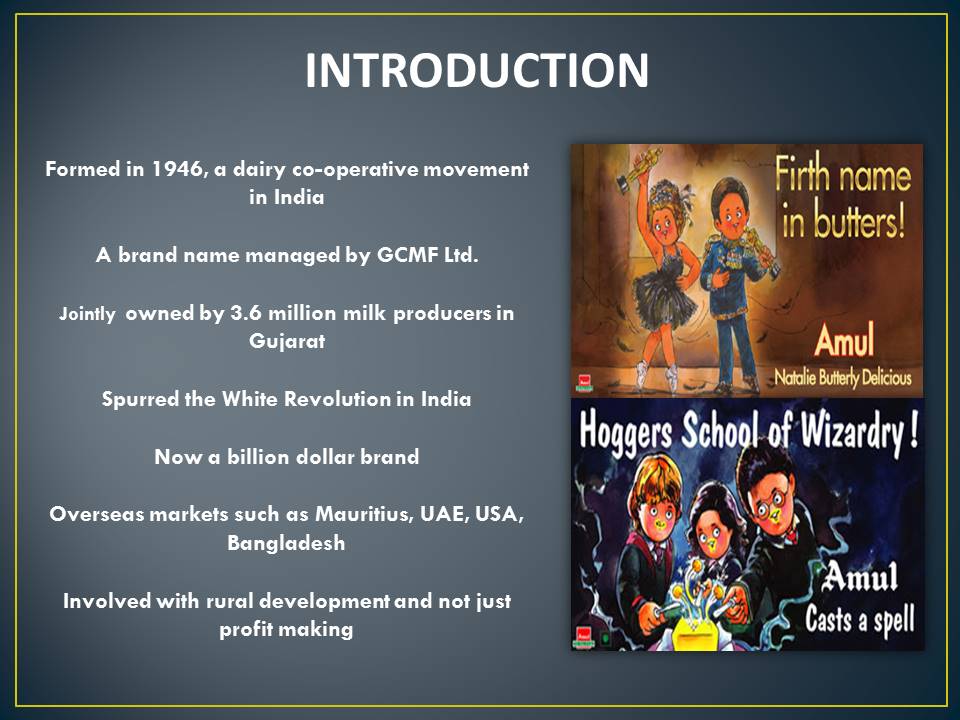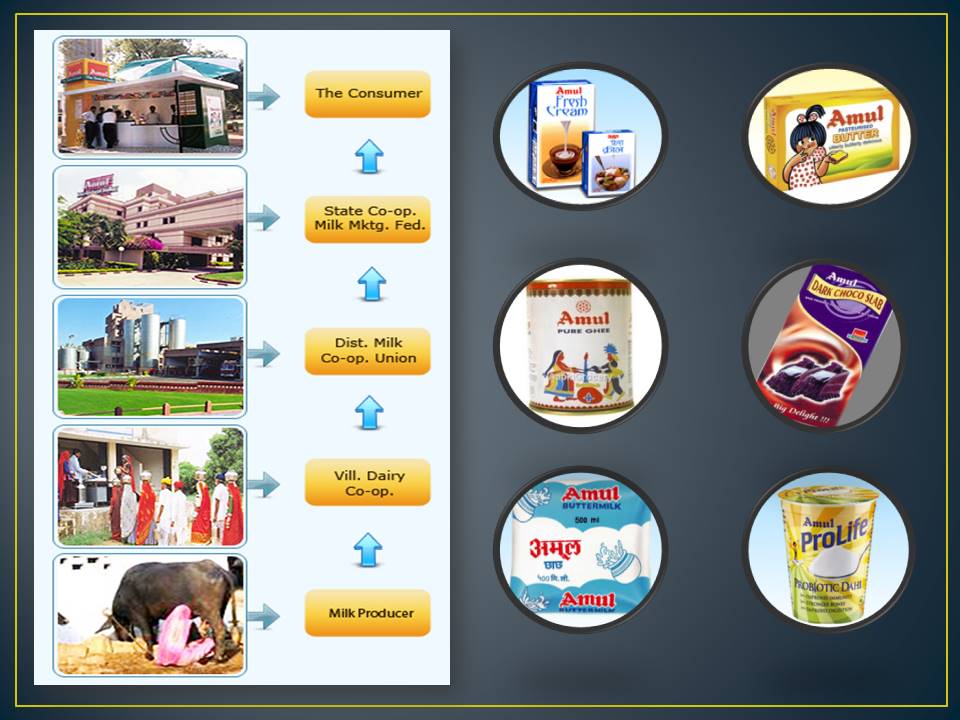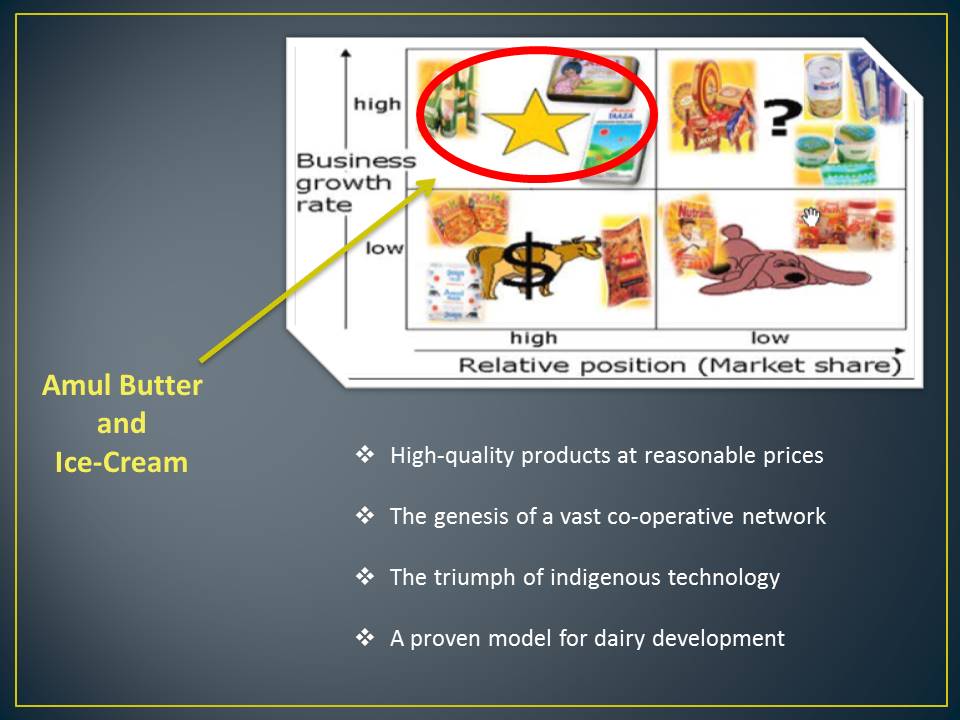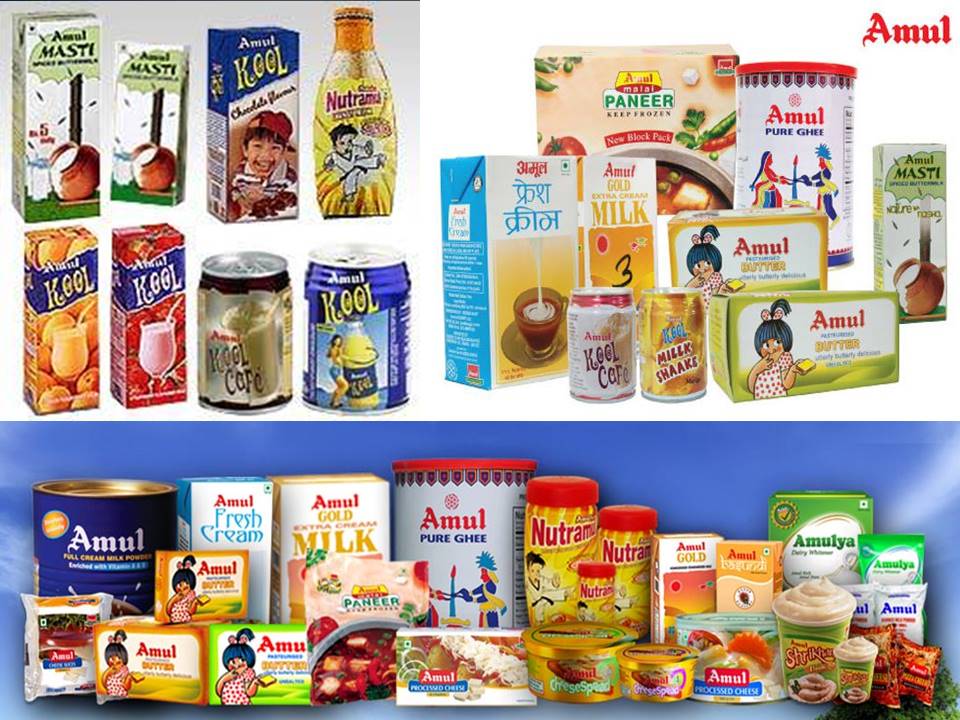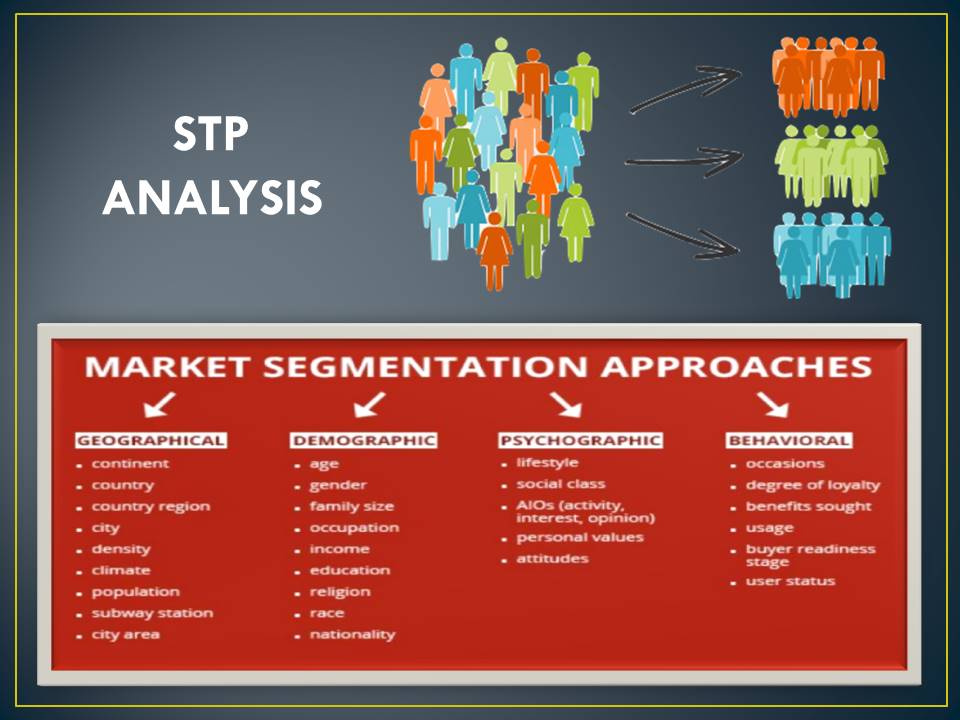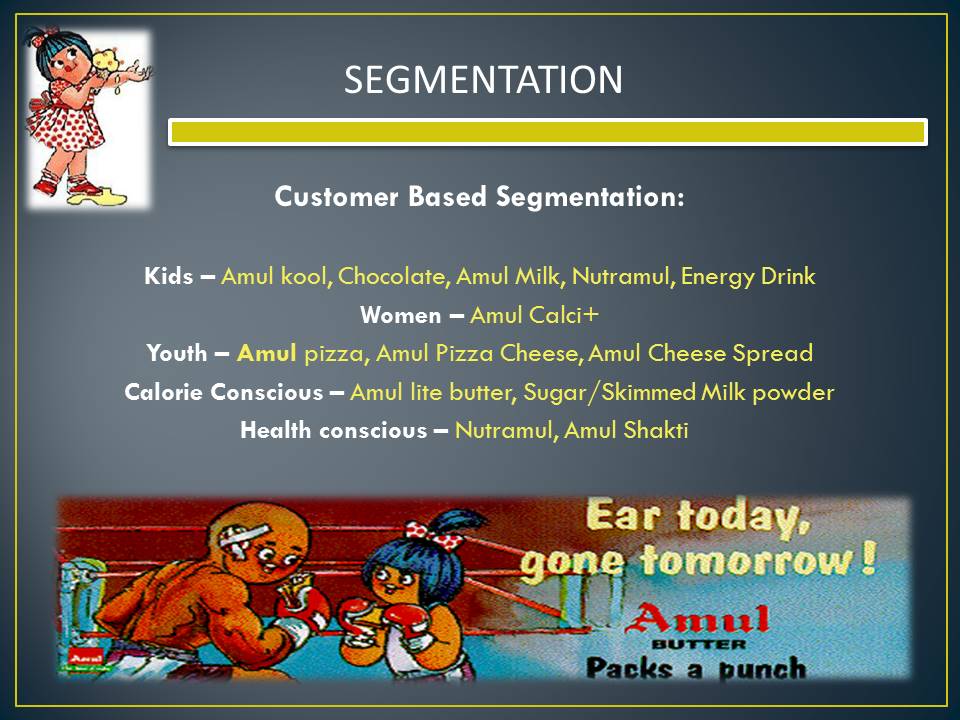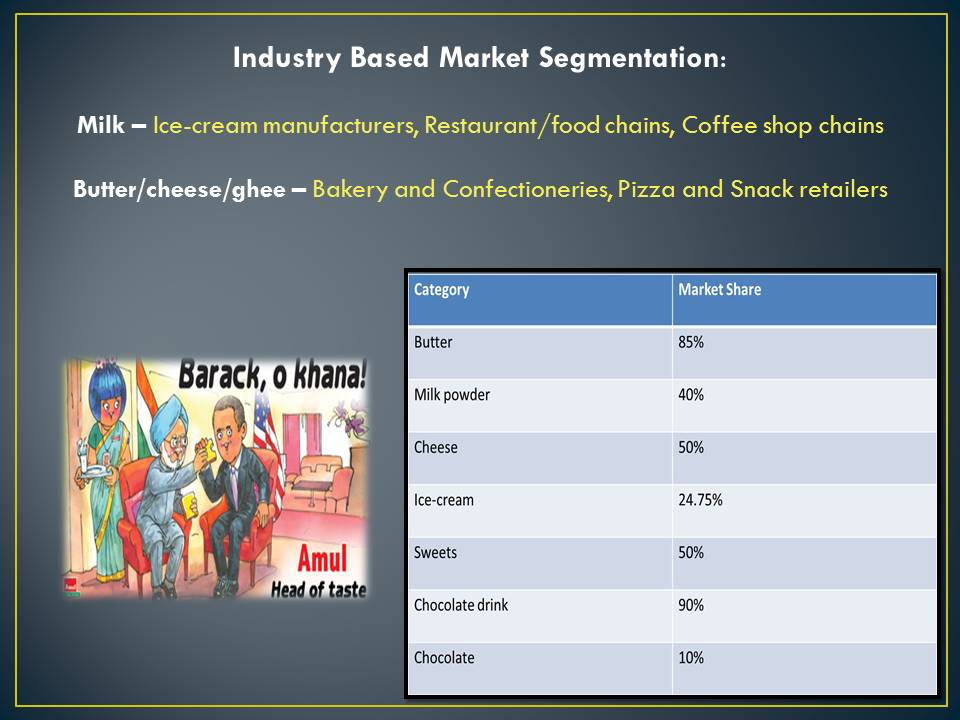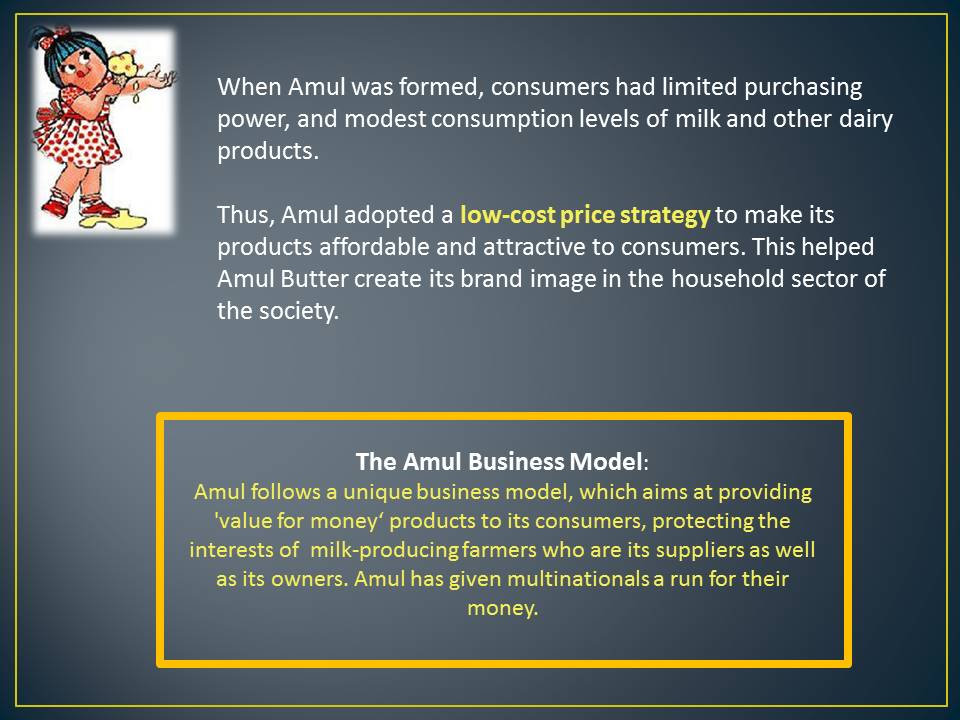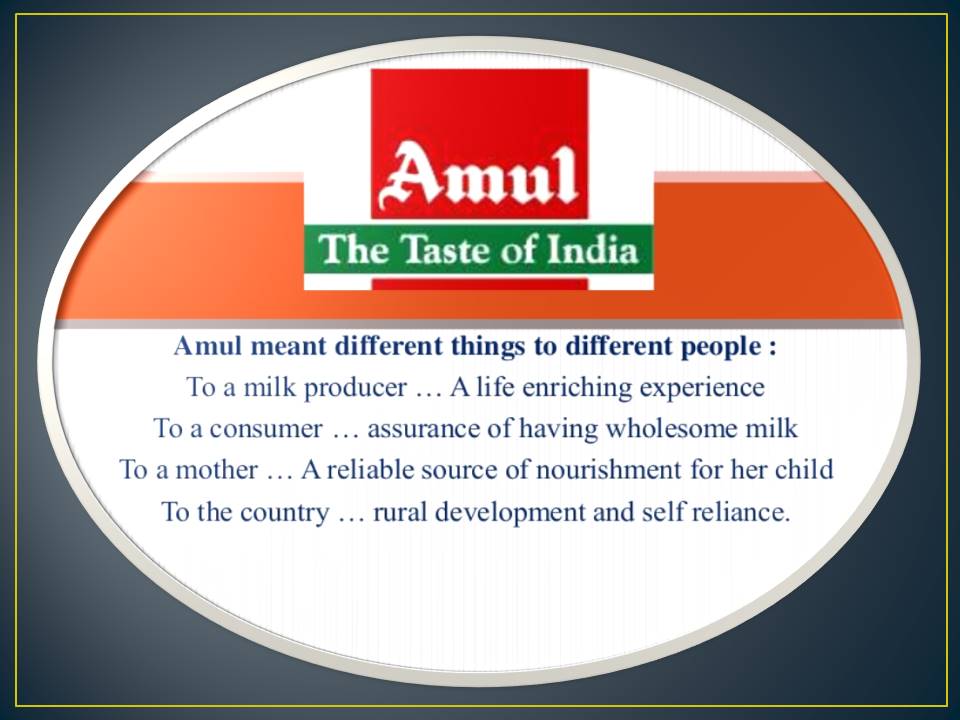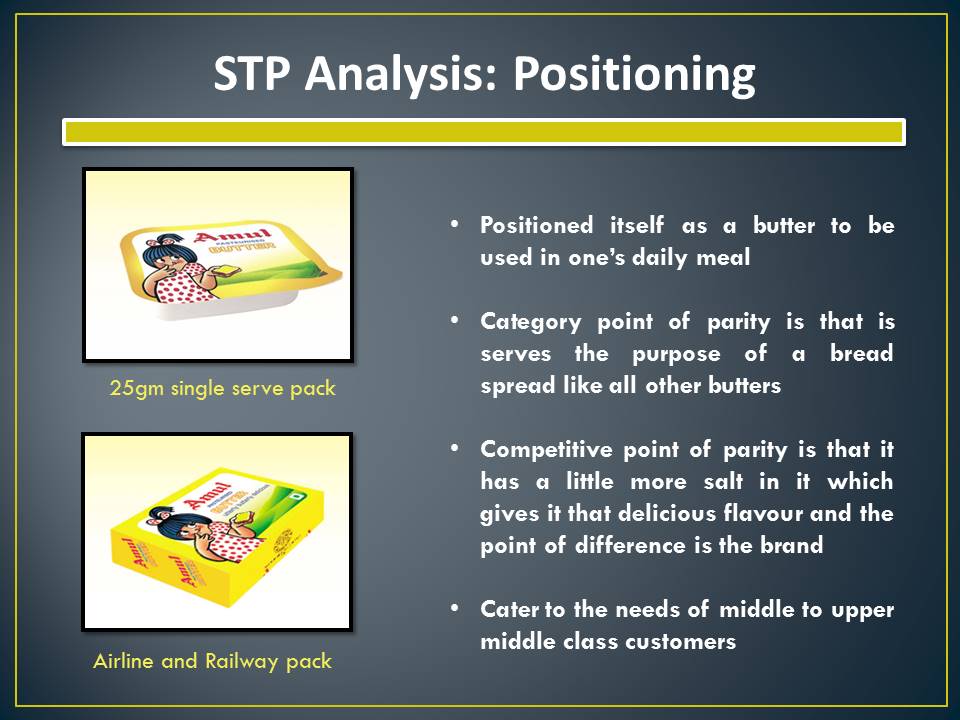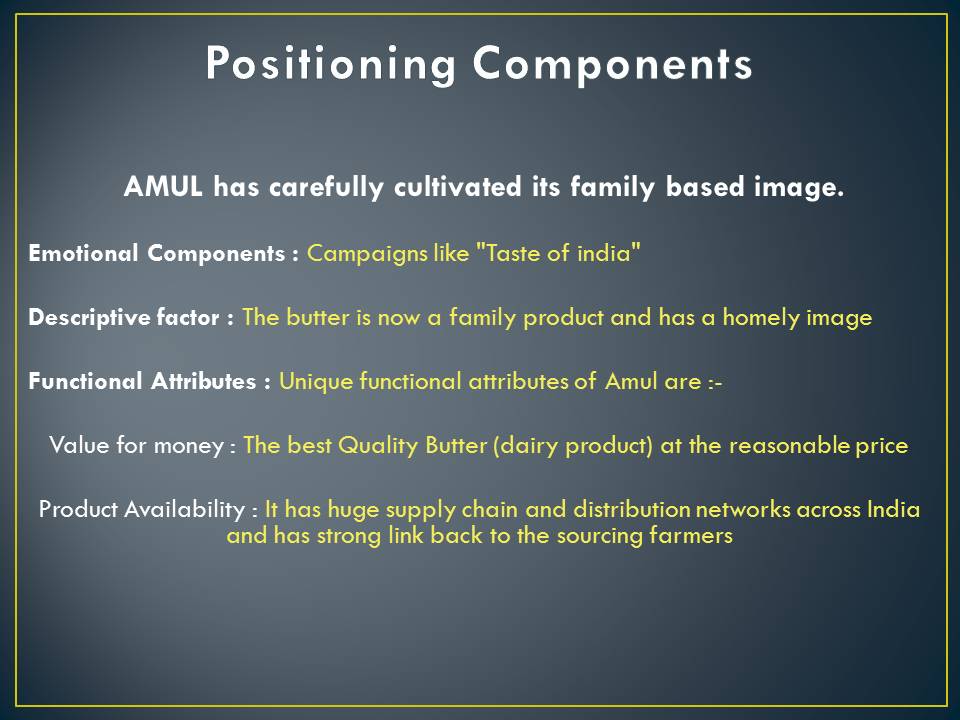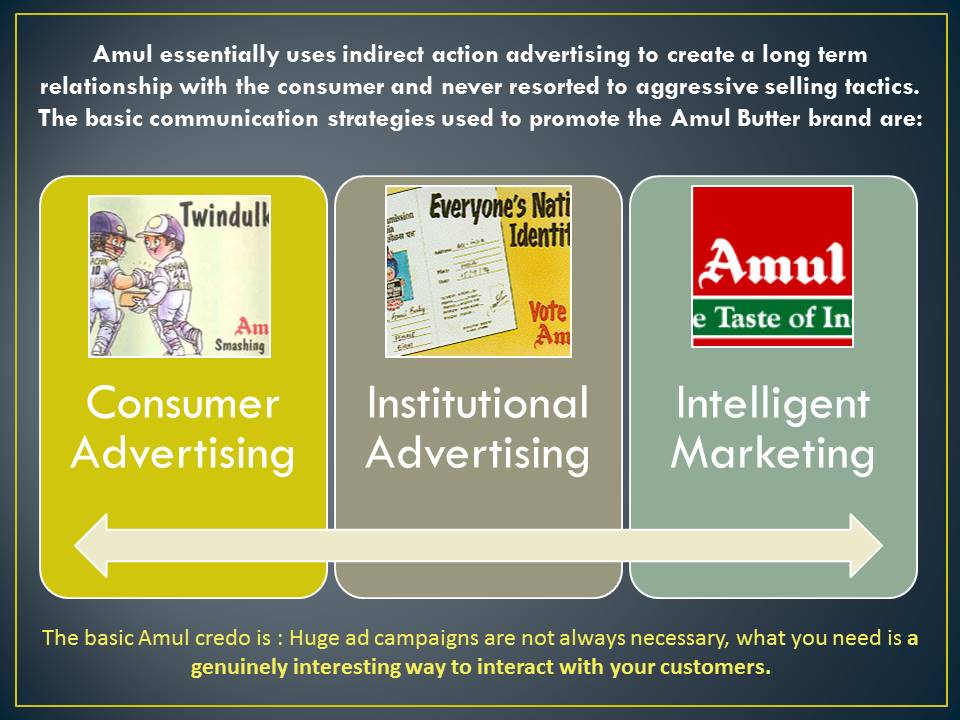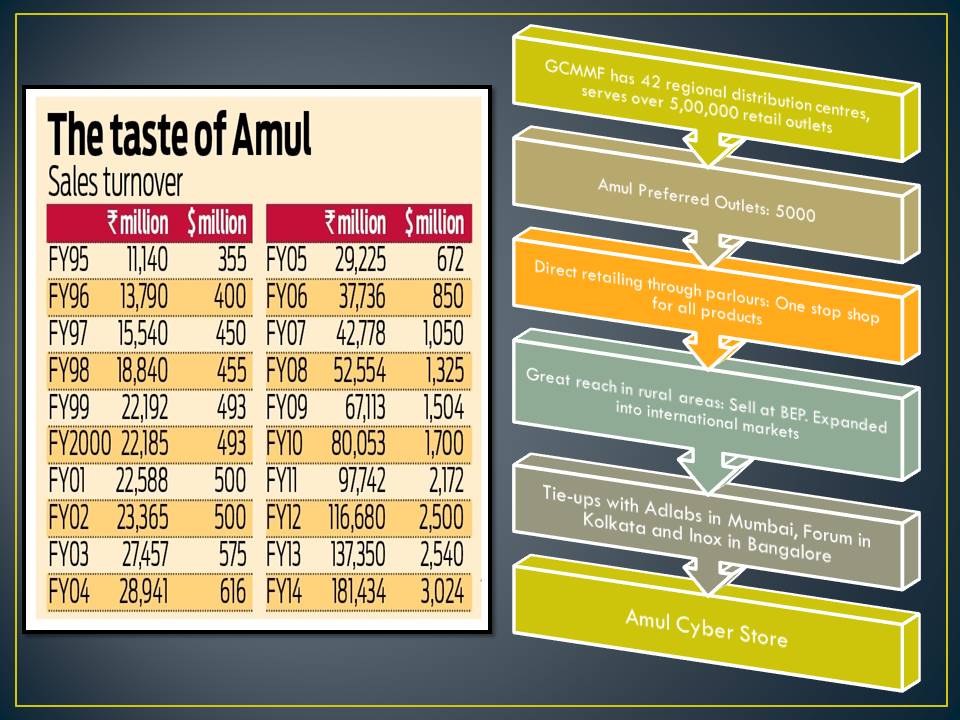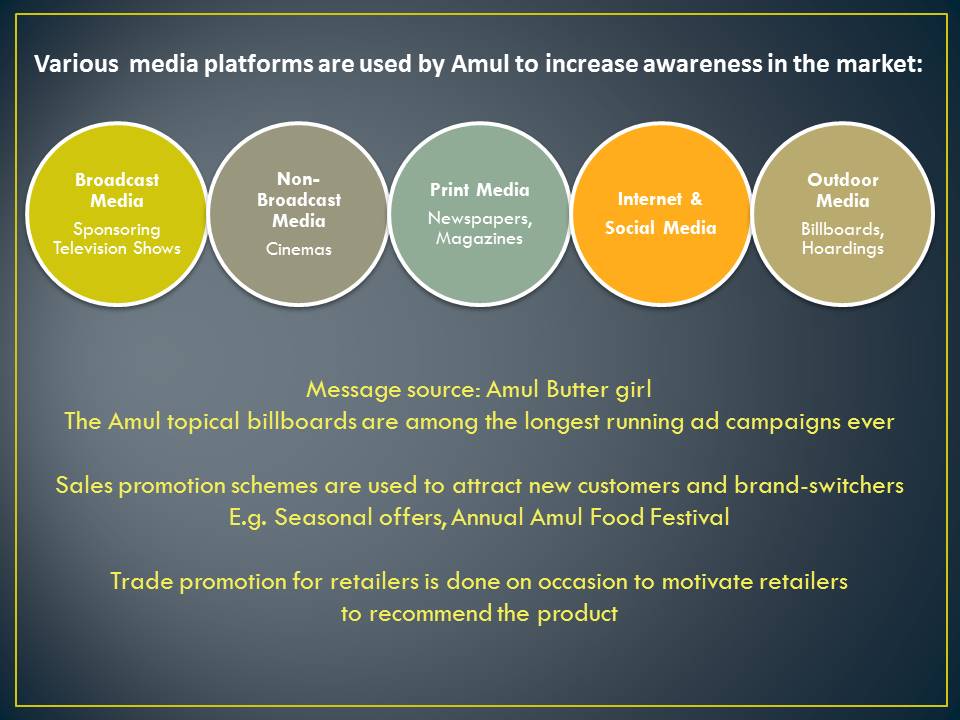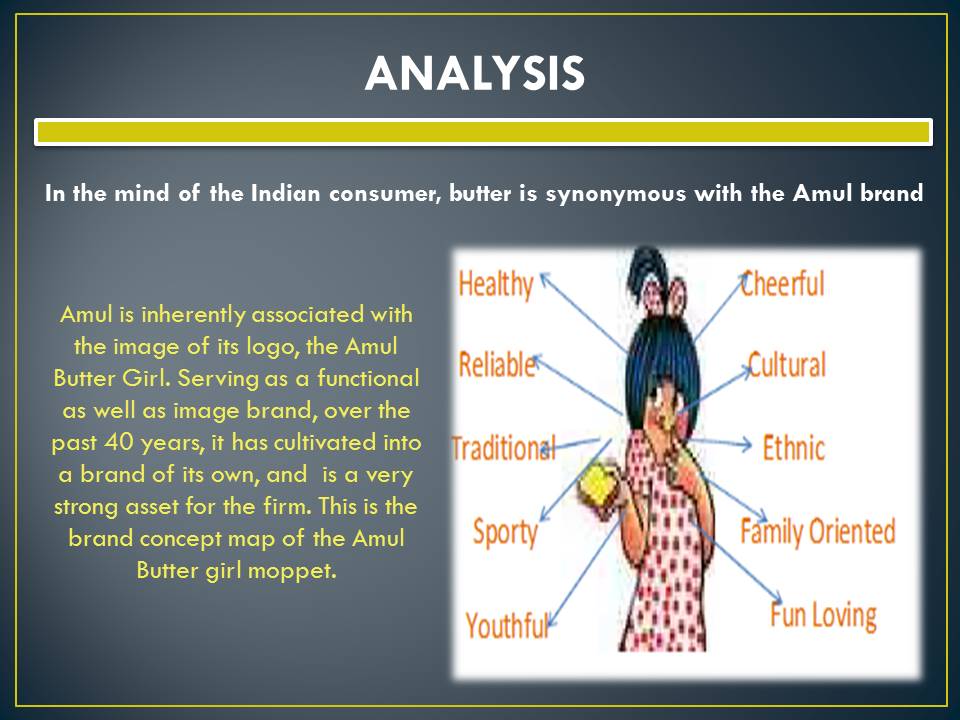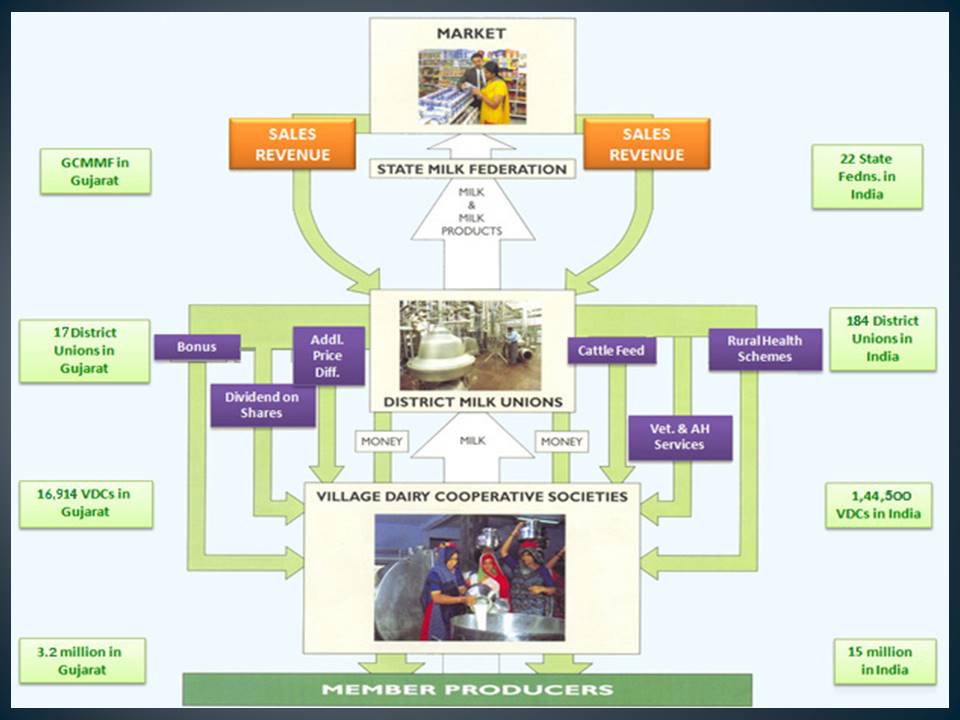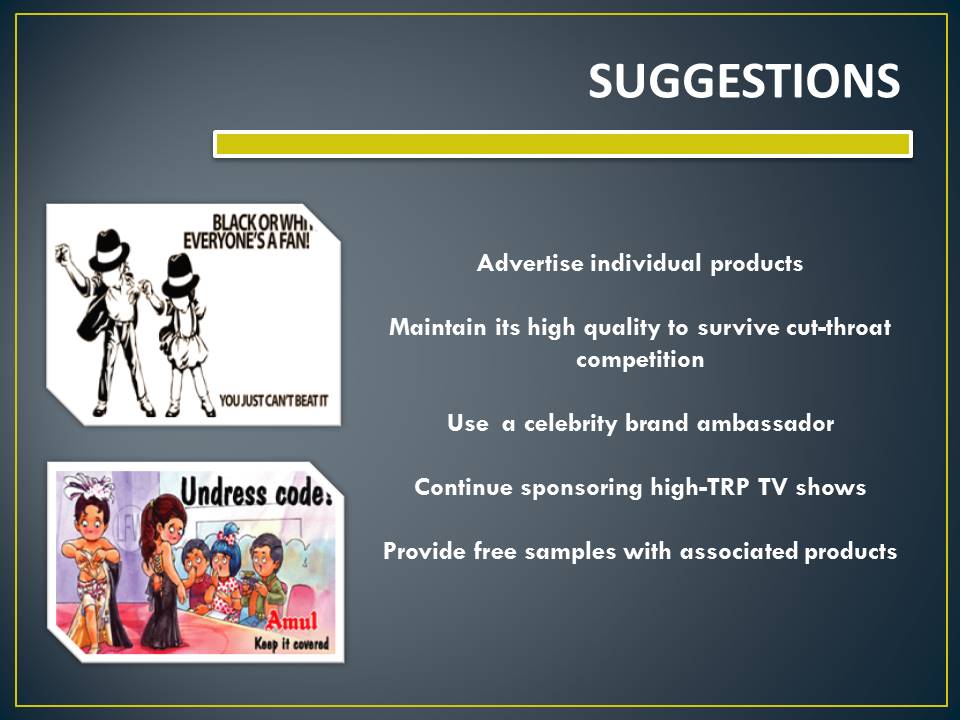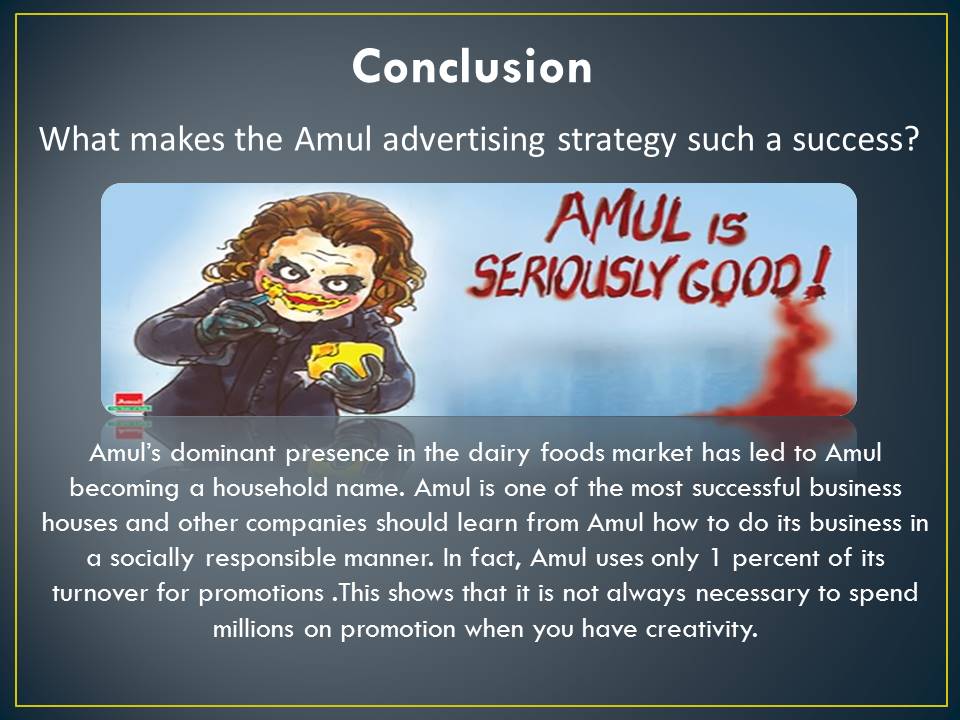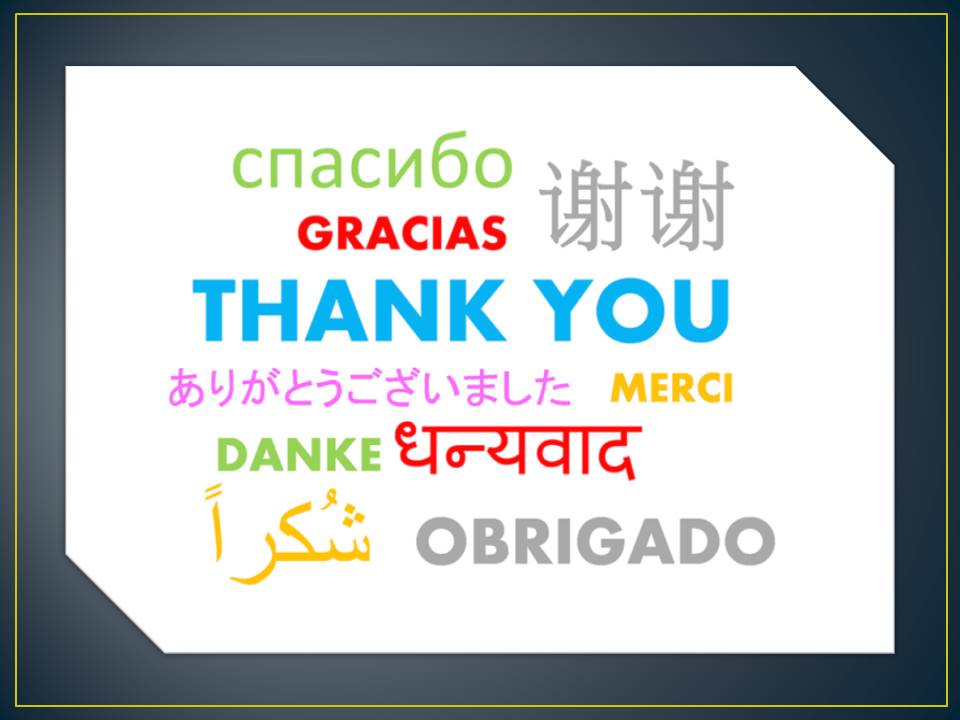 Project/Slides/Presentation Transcript
TOPIC: Marketing Project on Segmentation,Targeting and Positioning of Amul
INTRODUCTION
Formed in 1946, a dairy co-operative movement in India

A brand name managed by Gujarat Co-operative Milk Marketing Federation Ltd. (GCMMF)

Jointly owned by 3.6 million milk producers in Gujarat

Spurred the White Revolution in India

Now a billion dollar brand

Overseas markets such as Mauritius, UAE, USA, Bangladesh Involved with rural development and not just profit making
Slide 4 – Segmentation,Targeting and Positioning of Amul
High-quality products at reasonable prices

The genesis of a vast co-operative network

The triumph of indigenous technology

A proven model for dairy development
STP Analysis: SEGMENTATION
Customer Based Segmentation:
Kids – Amul kool, Chocolate, Amul Milk, Nutramul, Energy Drink Women – Amul Calci+ Youth – Amul pizza, Amul Pizza Cheese, Amul Cheese Spread Calorie Conscious – Amul lite butter, Sugar/Skimmed Milk powder  Health conscious – Nutramul, Amul Shakti
Industry Based Market Segmentation:
Milk – Ice-cream manufacturers, Restaurant/food chains, Coffee shop chains
Butter/cheese/ghee – Bakery and Confectioneries, Pizza and Snack retailers
STP Analysis: TARGETING
A Mass Market Player

No Premium Offerings

Unique Selling Point – Quality with affordability
Slide 11 – Segmentation,Targeting and Positioning of Amul
When Amul was formed, consumers had limited purchasing power, and modest consumption levels of milk and other dairy products. Thus, Amul adopted a low-cost price strategy to make its products affordable and attractive to consumers. This helped Amul Butter create its brand image in the household sector of the society.
The Amul Business Model: Amul follows a unique business model, which aims at providing 'value for money' products to its consumers, protecting the interests of  milk-producing farmers who are its suppliers as well as its owners. Amul has given multinationals a run for their money.
STP Analysis: Positioning
Positioned itself as a butter to be used in one's daily meal
Category point of parity is that is serves the purpose of a bread spread like all other butters

Competitive point of parity is that it has a little more salt in it which gives it that delicious flavour and the point of difference is the brand

Cater to the needs of middle to upper middle class customers
POSITIONING COMPONENTS:
AMUL has carefully cultivated its family based image.

Emotional Components : Campaigns like "Taste of india"

Descriptive factor : The butter is now a family product and has a homely image

Functional Attributes : Unique functional attributes of Amul are :-

Value for money : The best Quality Butter (dairy product) at the reasonable price

Product Availability : It has huge supply chain and distribution networks across India and has strong link back to the sourcing farmers
SLIDE 15 – Segmentation,Targeting and Positioning of Amul
Amul essentially uses indirect action advertising to create a long term relationship with the consumer and never resorted to aggressive selling tactics. The basic communication strategies used to promote the Amul Butter brand are:
Consumer Advertising

Institutional Advertising

Intelligent Marketing
The basic Amul credo is : Huge ad campaigns are not always necessary, what you need is a genuinely interesting way to interact with your customers.
SLIDE 17 – Segmentation,Targeting and Positioning of Amul
Various  media platforms are used by Amul to increase awareness in the market:
Broadcast Media – Sponsoring Television Shows

Non-Broadcast Media – Cinemas

Print Media – Newspapers, Magazines

Internet & Social Media

Outdoor Media Billboards, Hoarding
Message source: Amul Butter girl – The Amul topical billboards are among the longest running ad campaigns ever.
Sales promotion schemes are used to attract new customers and brand-switchers E.g. Seasonal offers, Annual Amul Food Festival.
Trade promotion for retailers is done on occasion to motivate retailers to recommend the product.
ANALYSIS
Amul is inherently associated with the image of its logo, the Amul Butter Girl. Serving as a functional as well as image brand, over the past 40 years, it has cultivated into a brand of its own, and  is a very strong asset for the firm. This is the brand concept map of the Amul Butter girl moppet.
In the mind of the Indian consumer, butter is synonymous with the Amul brand
SUGGESTIONS 
Advertise individual products

Maintain its high quality to survive cut-throat competition

Use a celebrity brand ambassador

Continue sponsoring high-TRP TV shows

Provide free samples with associated products
Conclusion
What makes the Amul advertising strategy such a success?
Amul's dominant presence in the dairy foods market has led to Amul becoming a household name. Amul is one of the most successful business houses and other companies should learn from Amul how to do its business in a socially responsible manner. In fact, Amul uses only 1 percent of its turnover for promotions .This shows that it is not always necessary to spend millions on promotion when you have creativity.