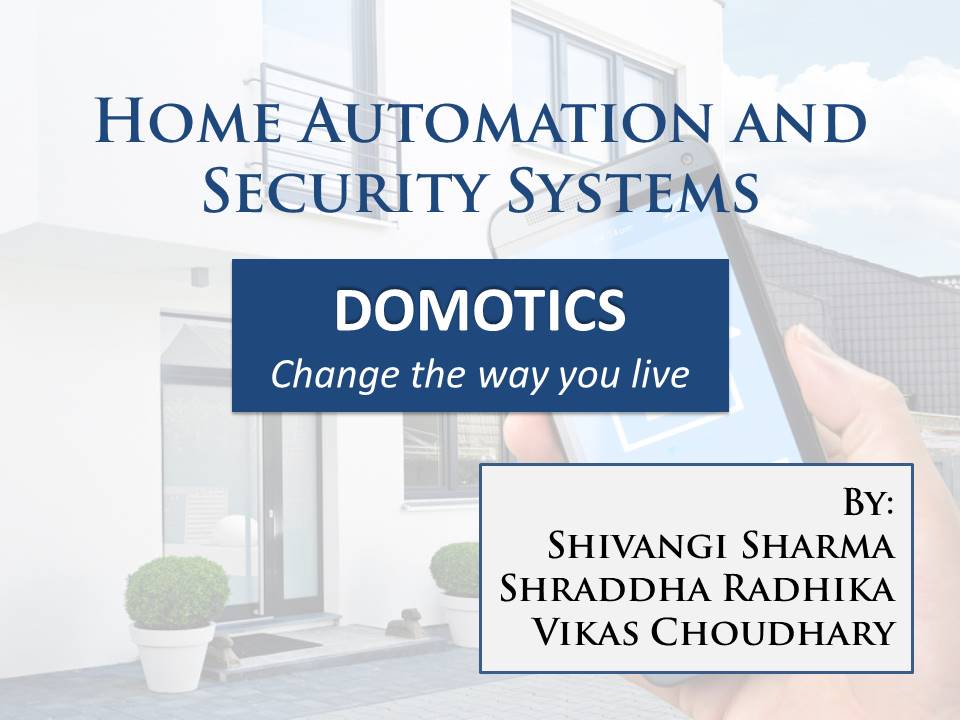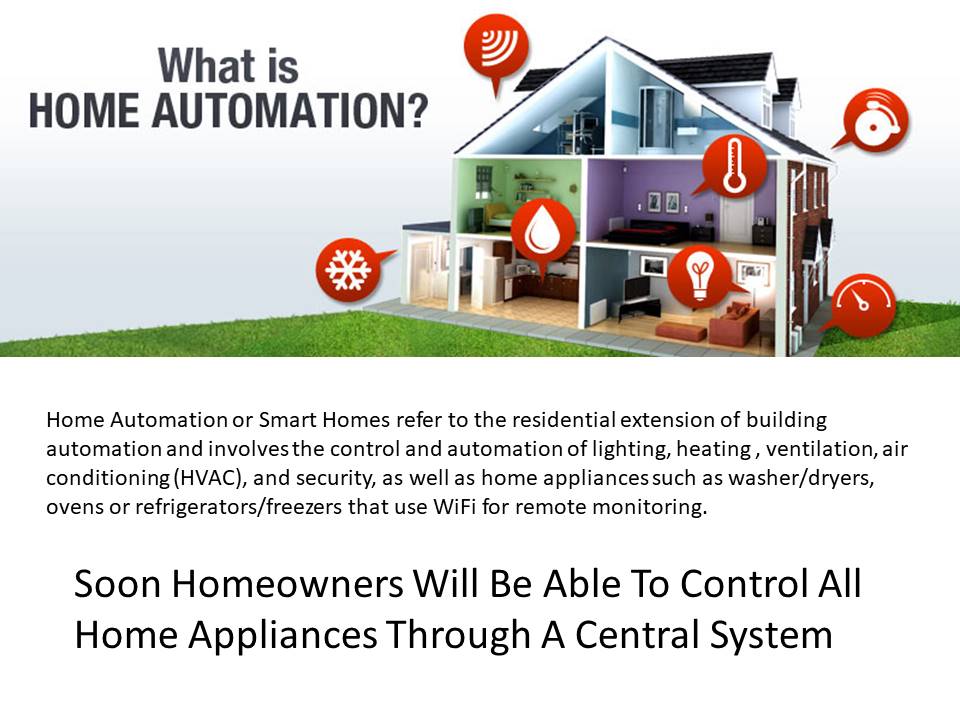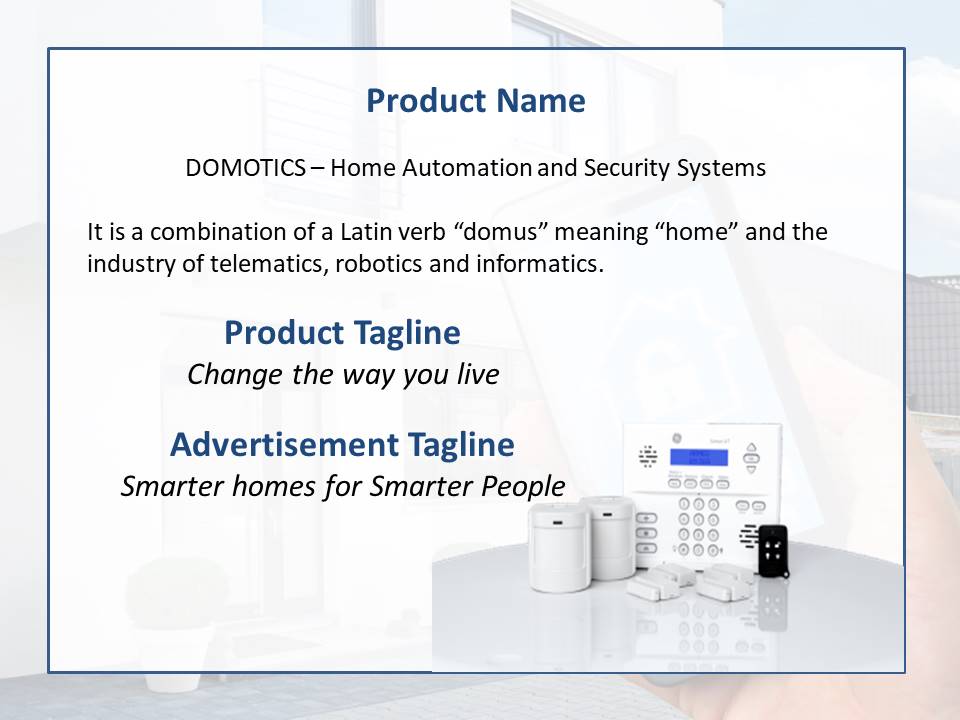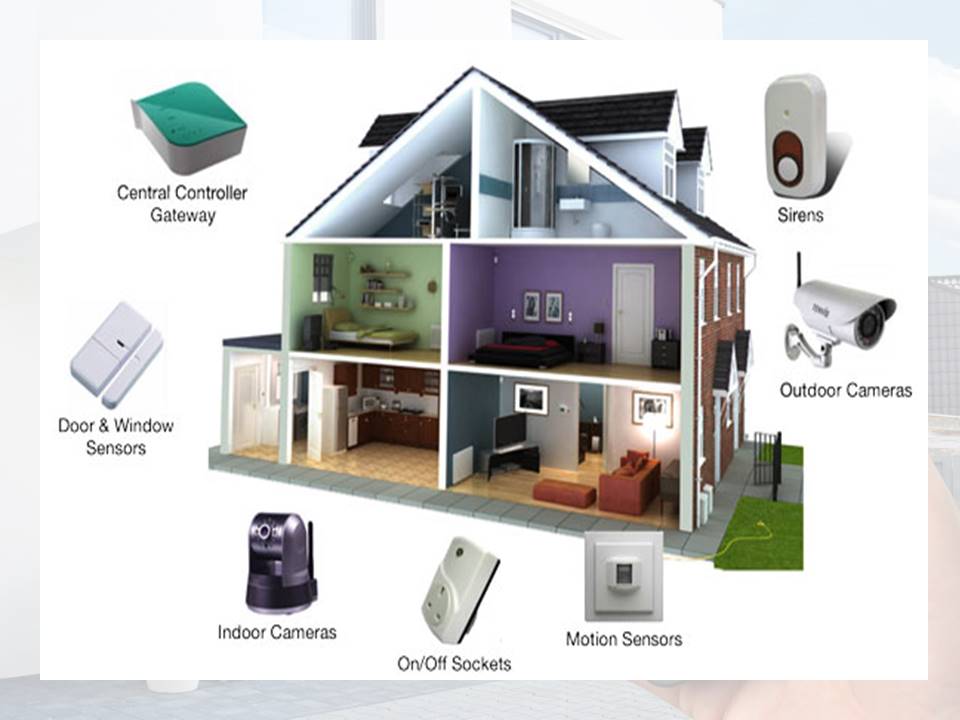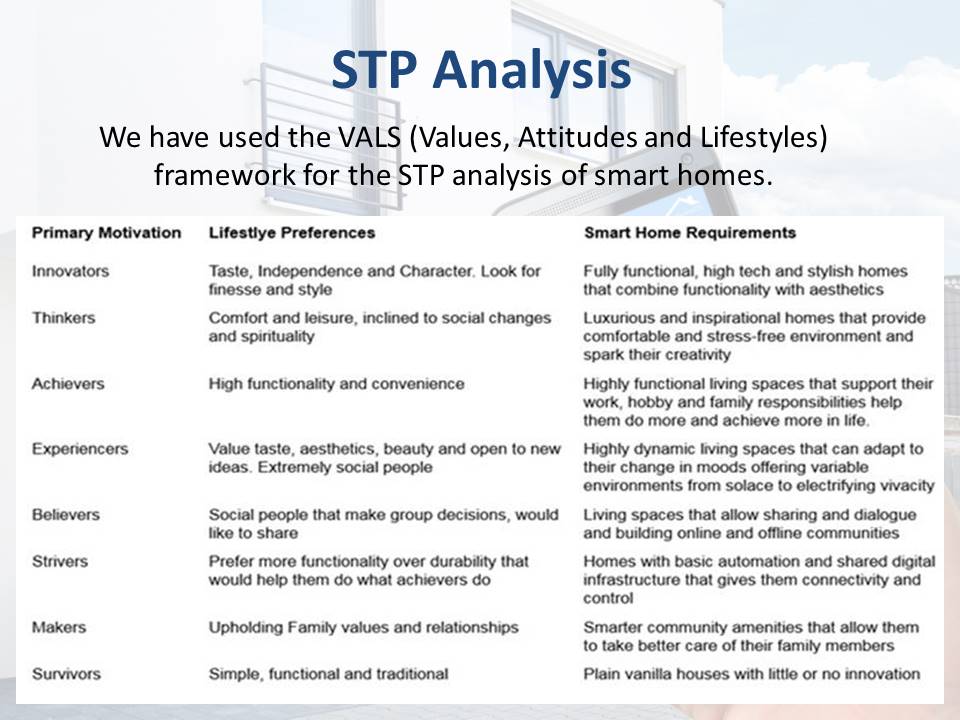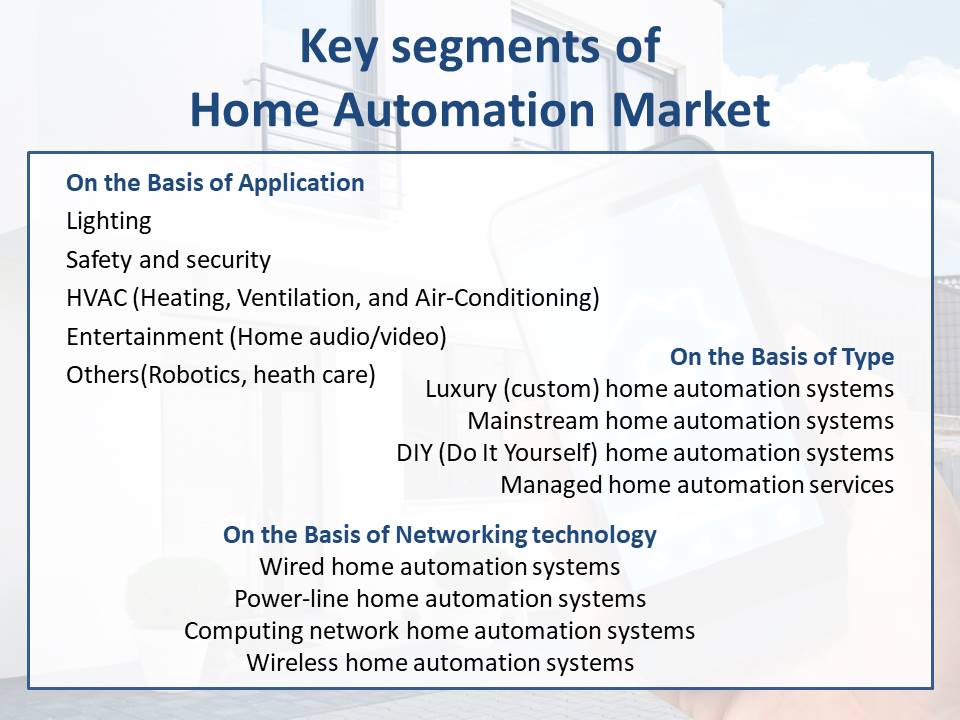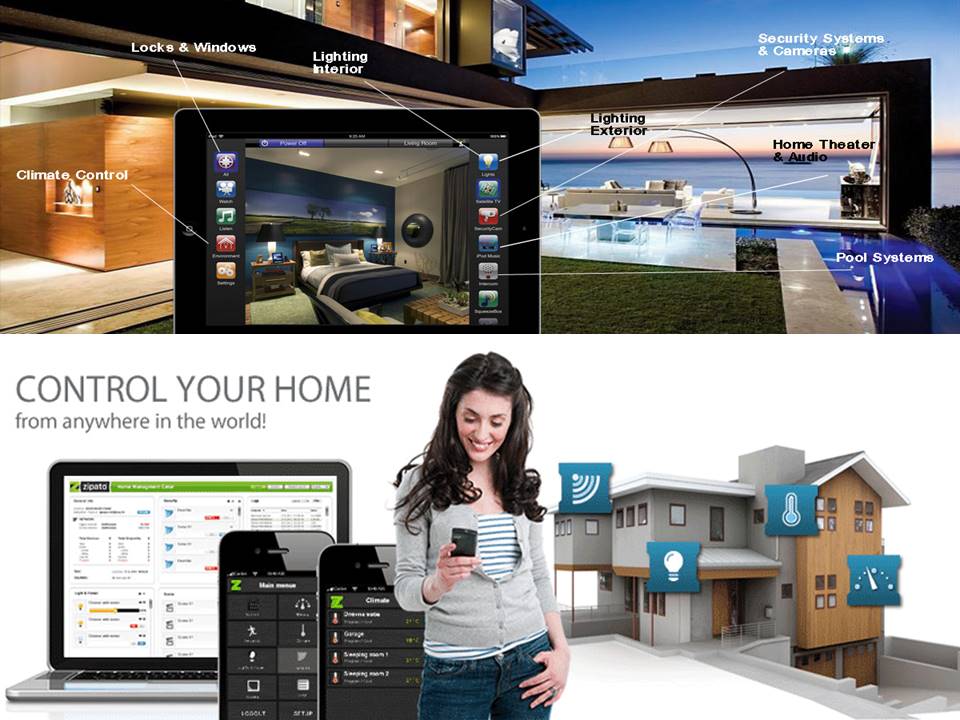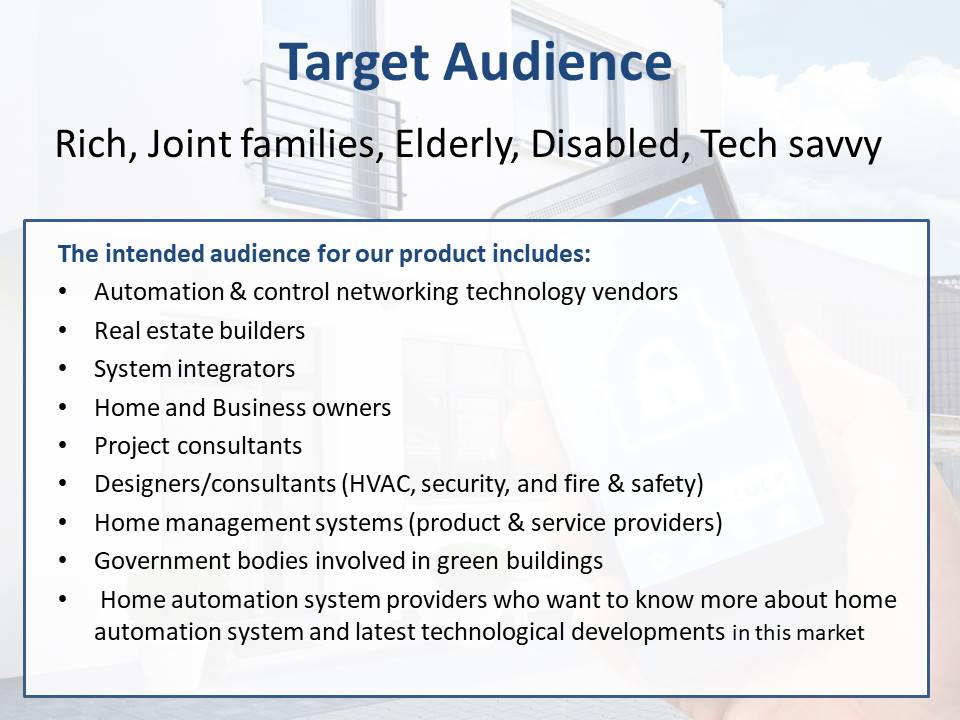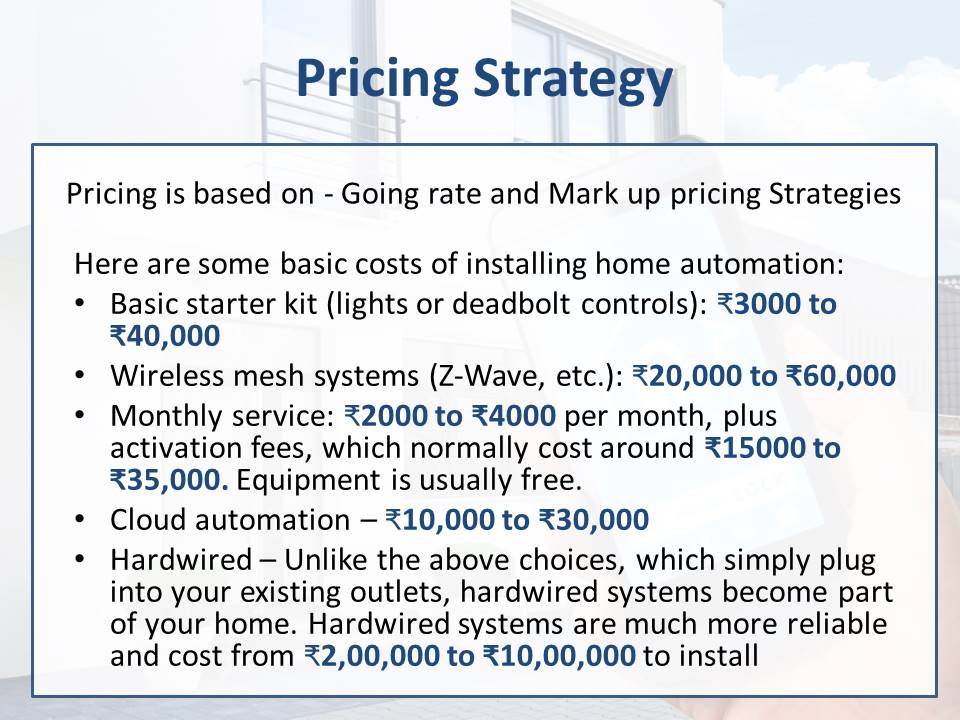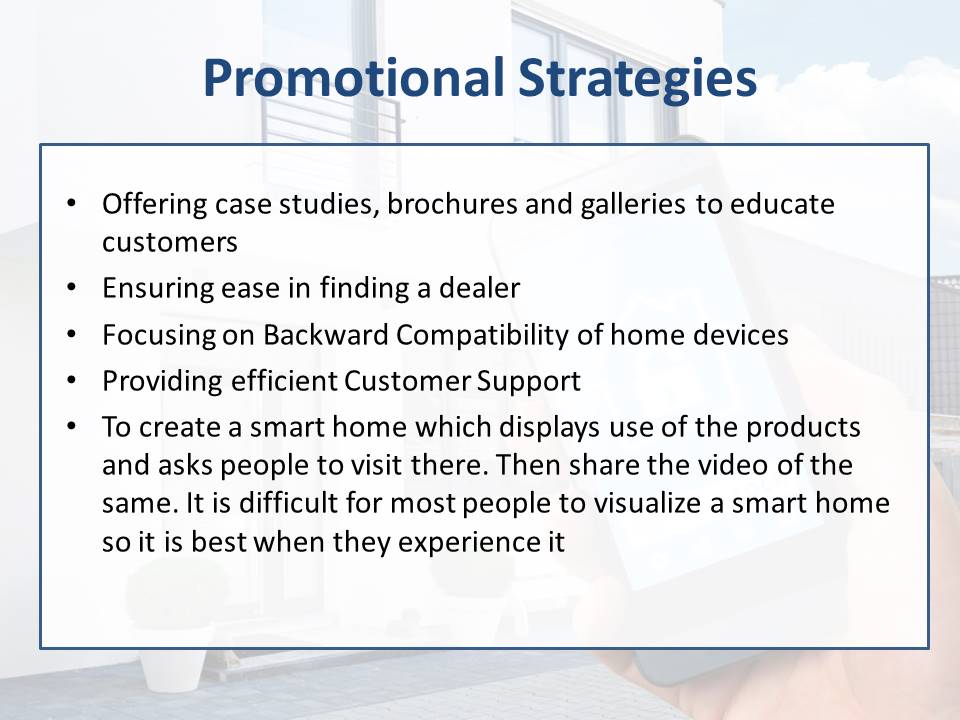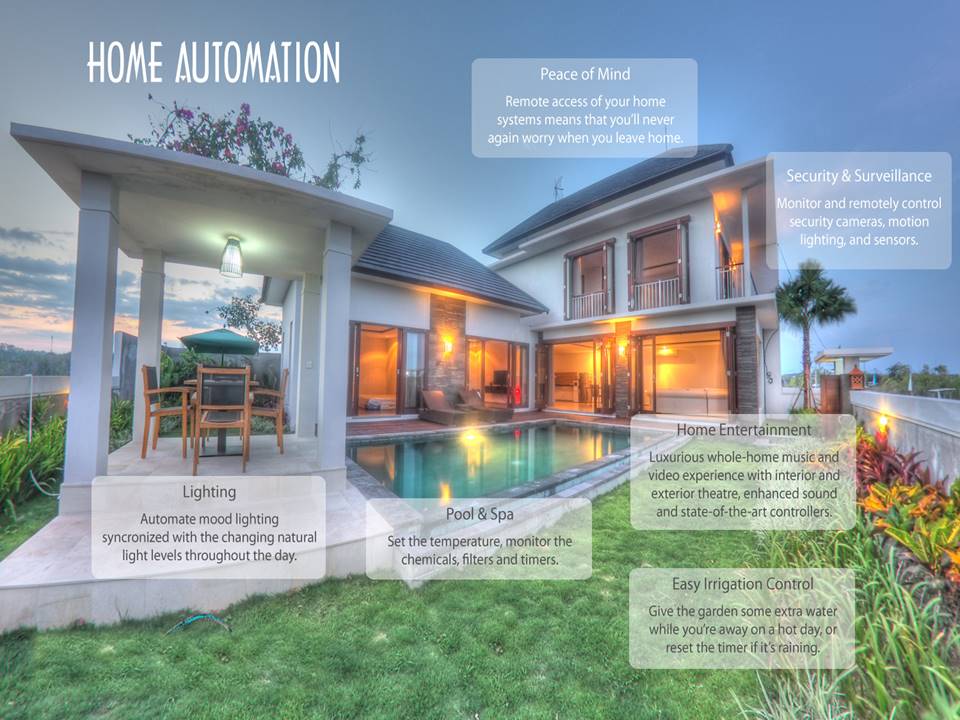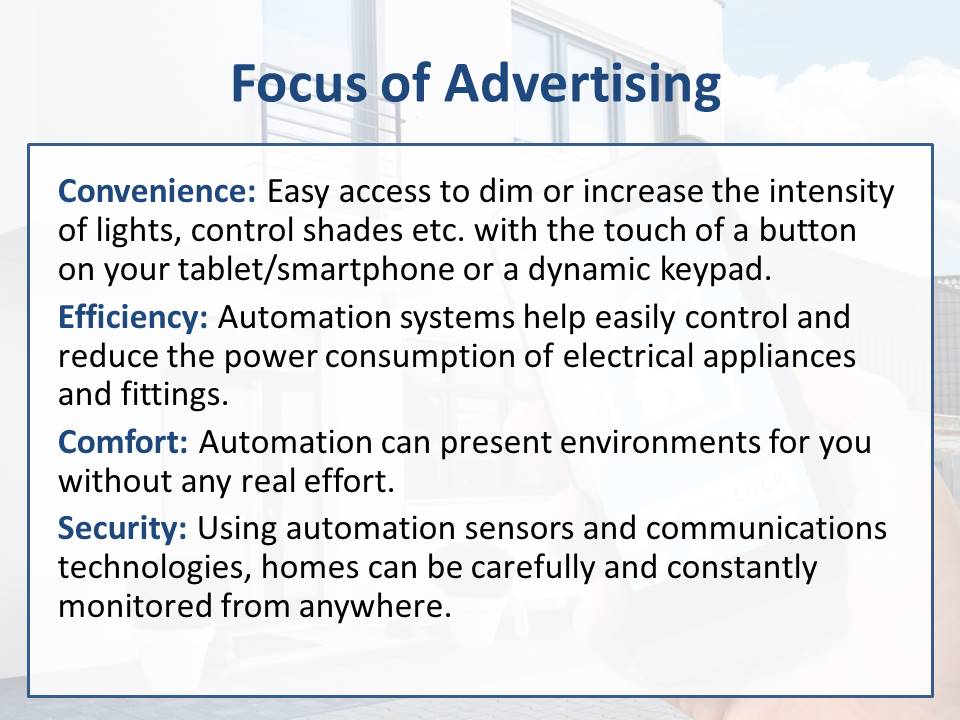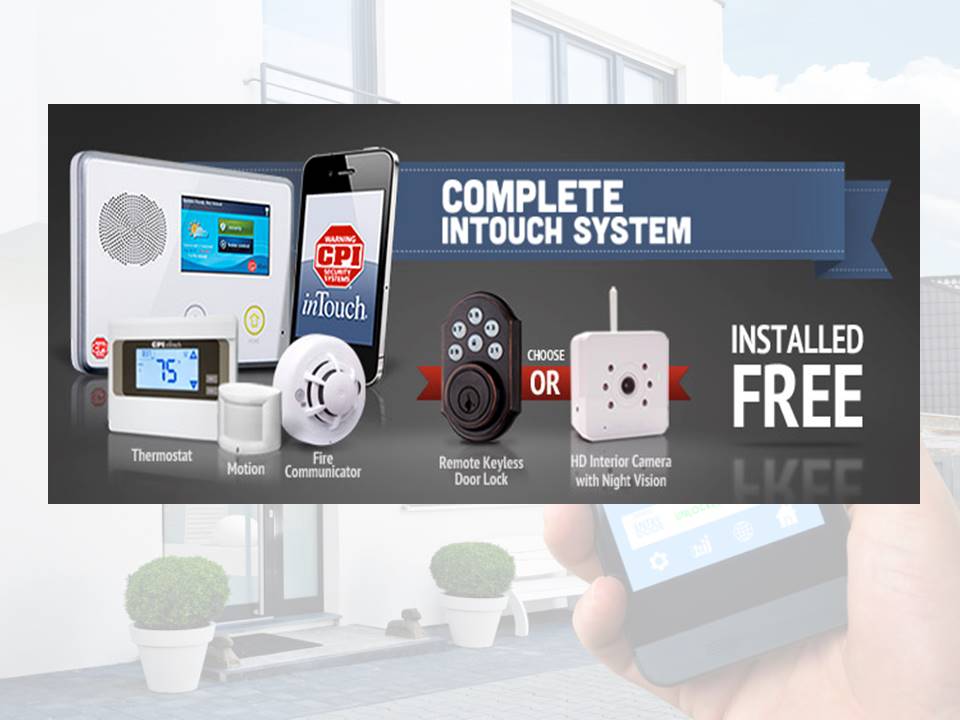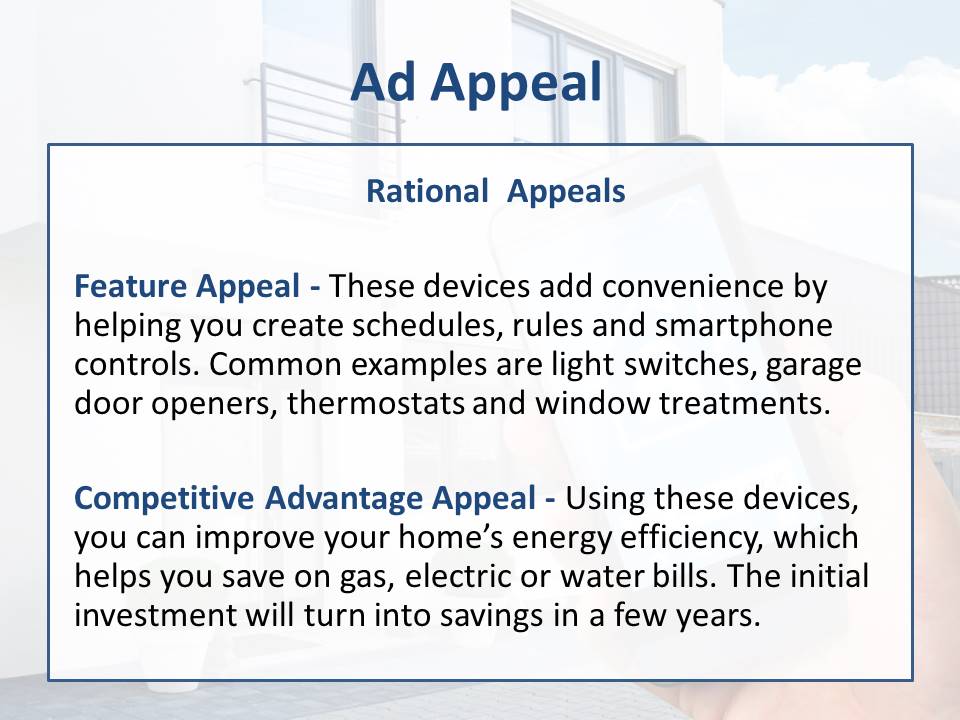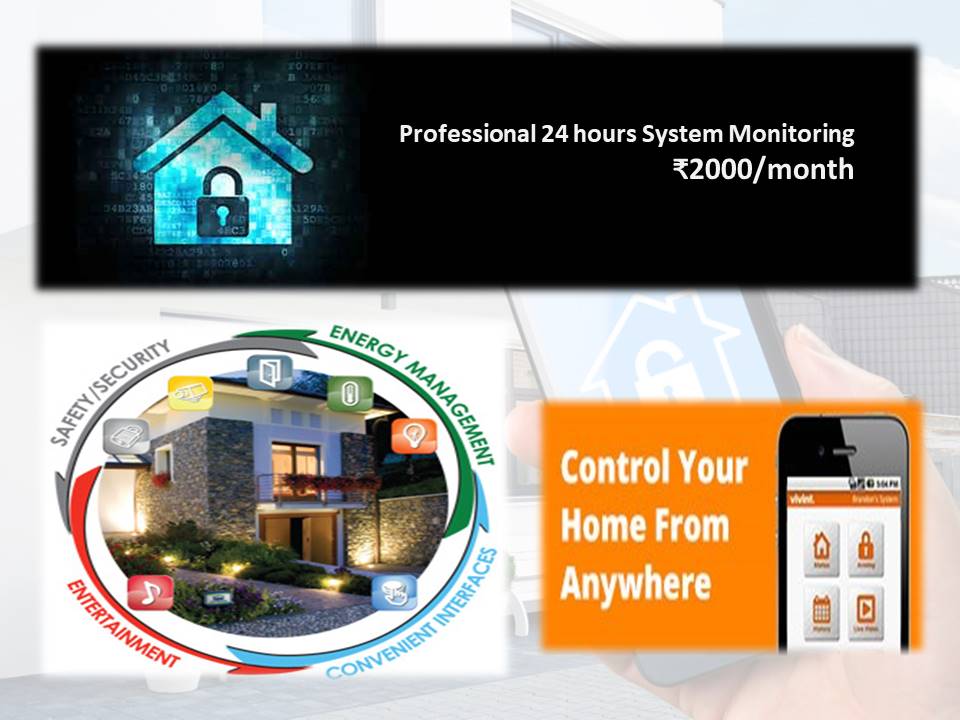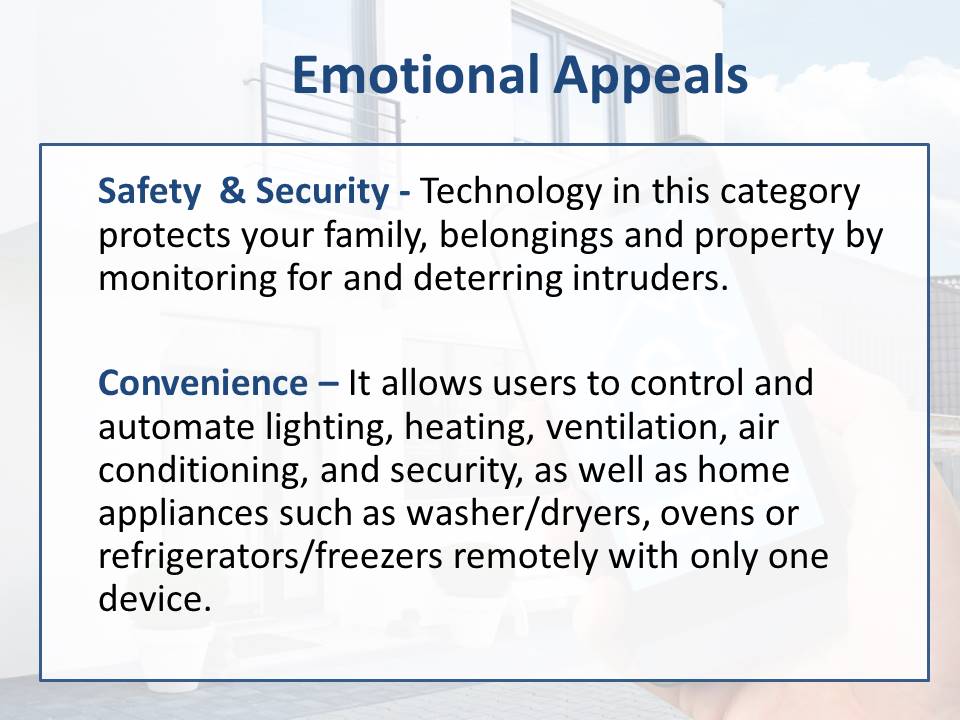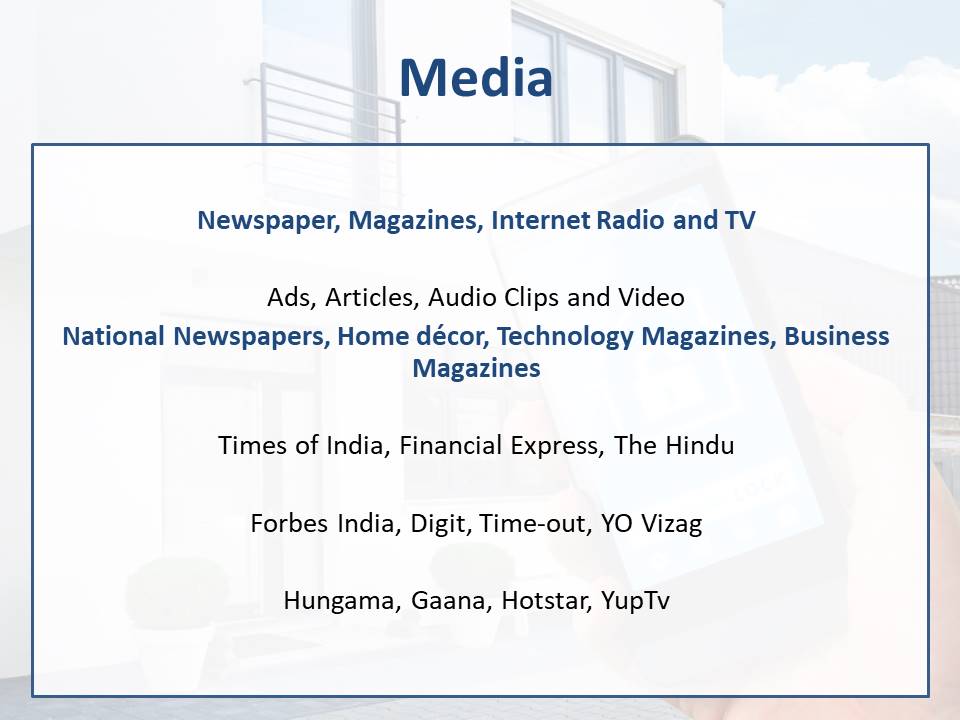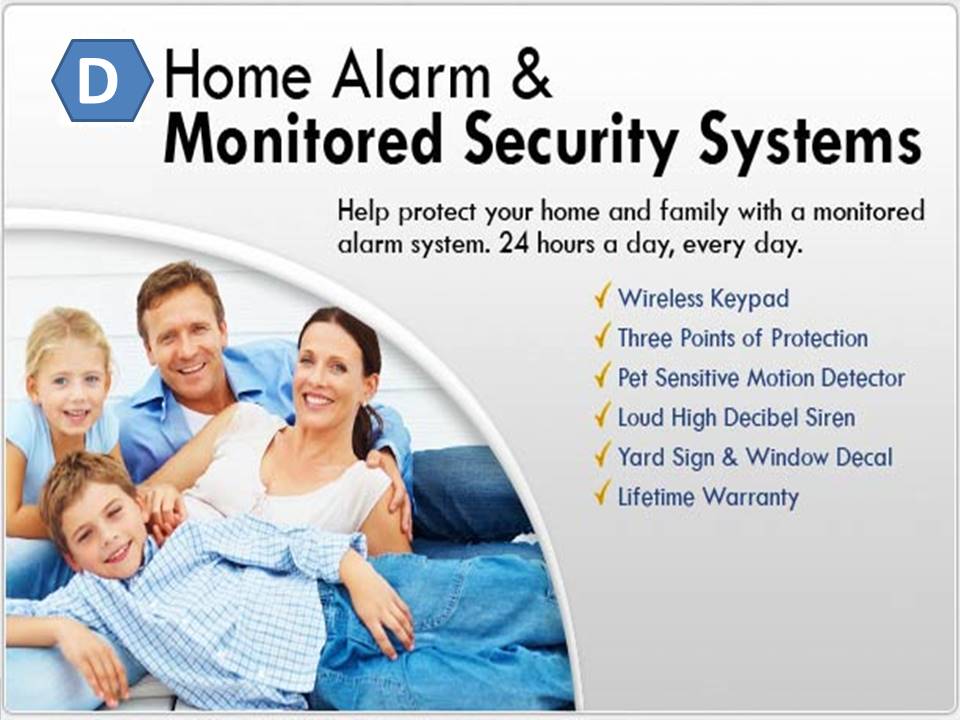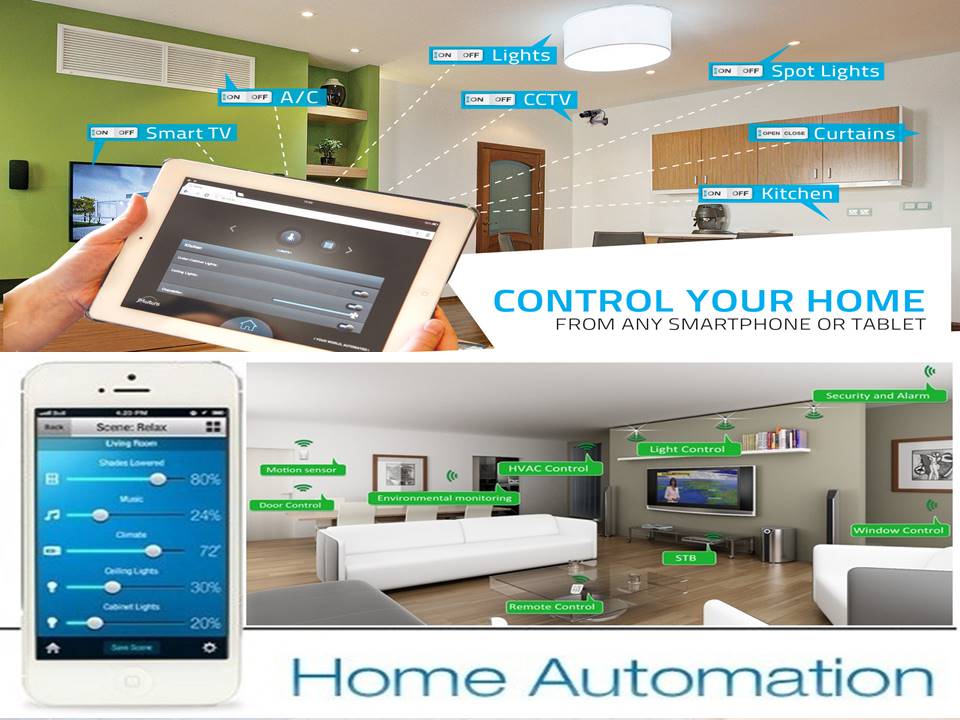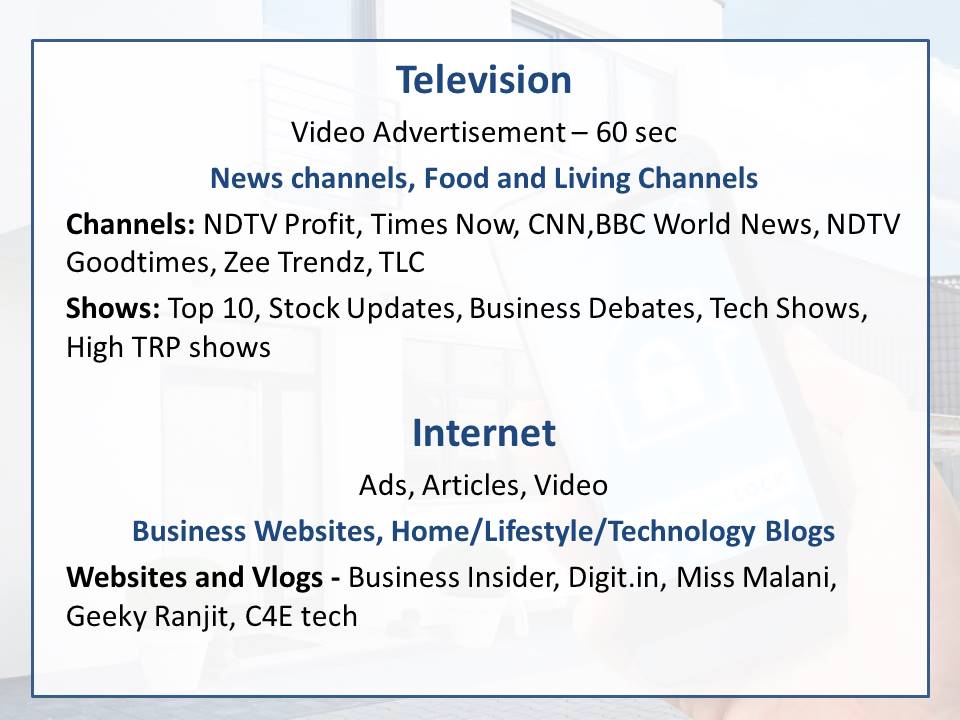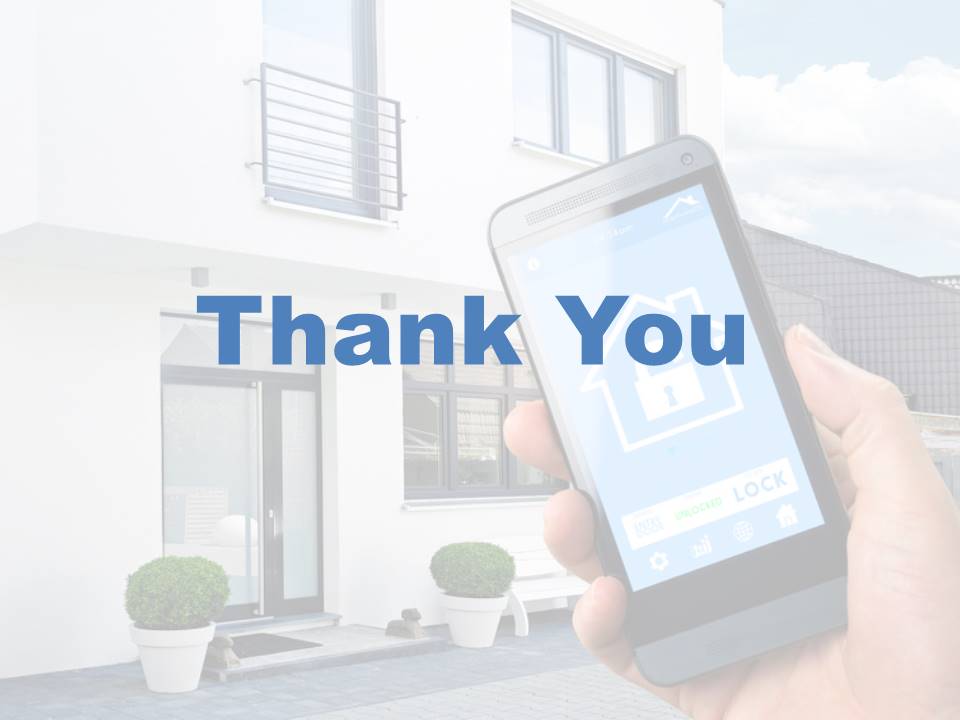 Project/Slides/Presentation Transcript
Advertisement Project on Home Automation and Security Systems
Slide 1
Home Automation and Security Systems
DOMOTICS
Change the way you live
Slide 2
What is Home Automation ?
Home Automation or Smart Homes refer to the residential extension of building automation and involves the control and automation of lighting, heating , ventilation, air conditioning (HVAC), and security, as well as home appliances such as washer/dryers, ovens or refrigerators/freezers that use WiFi for remote monitoring.
Soon Homeowners Will Be Able To Control All Home Appliances through a Central System
Slide 3
Product Name
DOMOTICS – Home Automation and Security Systems
It is a combination of a Latin verb "domus" meaning "home" and the industry of telematics, robotics and informatics.
Product Tagline
Change the way you live
Advertisement Tagline
Smarter homes for Smarter People
Slide 4
Organizational Objectives
To introduce the concept of Home automation to the Indian Market
To create market presence for the brand DOMOTICS in home security industry
To create awareness about home automation and security products
To exploit the first mover advantages in the home security industry
Slide 5 Home Automation and Security Systems
Slide 6
We have used the VALS (Values, Attitudes and Lifestyles) framework for the STP analysis of smart homes.
Slide 7
Key segments of Home Automation Market
On the Basis of Application
Lighting
Safety and security
HVAC (Heating, Ventilation, and Air-Conditioning)
Entertainment (Home audio/video)
Others(Robotics, heath care)
On the Basis of Type
Luxury (custom) home automation systems
Mainstream home automation systems
DIY (Do It Yourself) home automation systems
Managed home automation services
On the Basis of Networking technology
Wired home automation systems
Power-line home automation systems
Computing network home automation systems
Wireless home automation systems
Slide 8
Slide 9
Target Audience
Rich, Joint families, Elderly, Disabled, Tech savvy
The intended audience for our product includes:
Automation & control networking technology vendors
Real estate builders
System integrators
Home and Business owners
Project consultants
Designers/consultants (HVAC, security, and fire & safety)
Home management systems (product & service providers)
Government bodies involved in green buildings
Home automation system providers who want to know more about home automation system and latest technological developments in this market
Slide 10
Pricing Strategy
Pricing is based on – Going rate and Mark up pricing Strategies
Here are some basic costs of installing home automation:
Basic starter kit (lights or deadbolt controls): ₹3000 to ₹40,000
Wireless mesh systems (Z-Wave, etc.): ₹20,000 to ₹60,000
Monthly service: ₹2000 to ₹4000 per month, plus activation fees, which normally cost around ₹15000 to ₹35,000. Equipment is usually free.
Cloud automation – ₹10,000 to ₹30,000
Hardwired – Unlike the above choices, which simply plug into your existing outlets, hardwired systems become part of your home. Hardwired systems are much more reliable and cost from ₹2,00,000 to ₹10,00,000 to install
Slide 11
Promotional Strategies
Offering case studies, brochures and galleries to educate customers
Ensuring ease in finding a dealer
Focusing on Backward Compatibility of home devices
Providing efficient Customer Support
To create a smart home model which displays use of all the products for customers to visit and interact. Then share the video of the same. It is difficult for most people to visualize a smart home so it is best when they experience it
Slide 12
Slide 13
Focus of Advertising
Convenience: Easy access to dim or increase the intensity of lights, control shades etc. with the touch of a button on your tablet/smartphone or a dynamic keypad.
Efficiency: Automation systems help easily control and reduce the power consumption of electrical appliances and fittings.
Comfort: Automation can present environments for you without any real effort.
Security: Using automation sensors and communications technologies, homes can be carefully and constantly monitored from anywhere.
Slide 14
Slide 15
Feature Appeal – These devices add convenience by helping you create schedules, rules and smartphone controls. Common examples are light switches, garage door openers, thermostats and window treatments.
Competitive Advantage Appeal – Using these devices, you can improve your home's energy efficiency, which helps you save on gas, electric or water bills. The initial investment will turn into savings in a few years.
Slide 16
Slide 17
Safety  & Security – Technology in this category protects your family, belongings and property by monitoring for and deterring intruders.
Convenience – It allows users to control and automate lighting, heating, ventilation, air conditioning, and security, as well as home appliances such as washer/dryers, ovens or refrigerators/freezers remotely with only one device.
Slide 18
Media
Newspaper, Magazines, Internet Radio and TV
Ads, Articles, Audio Clips and Video
National Newspapers, Home décor, Technology Magazines, Business Magazines
Times of India, Financial Express, The Hindu
Forbes India, Digit, Time-out, YO Vizag
Hungama, Gaana, Hotstar, YupTv
 Slide 19
Slide 20
Slide 21
Television
Video Advertisement – 60 sec
News channels, Food and Living Channels
Channels: NDTV Profit, Times Now, CNN,BBC World News, NDTV Goodtimes, Zee Trendz, TLC
Shows: Top 10, Stock Updates, Business Debates, Tech Shows, High TRP shows
Internet
Ads, Articles, Video
Business Websites, Home/Lifestyle/Technology Blogs
Websites and Vlogs – Business Insider, Digit.in, Miss Malani, Geeky Ranjit, C4E tech
Slide 22
Thank You